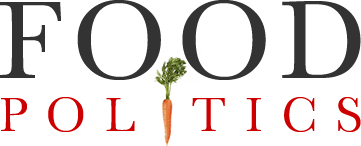 by Marion Nestle
The Ad Council on food safety: buy a meat thermometer
Yesterday's international edition of USA Today (I picked it up at Heathrow) carried a full-page ad from the Ad Council, which donates its services to worthy causes every now and then.  This one, entirely in grey and white, displays logos from the Ad Council, USDA, and the Department of Health and Human Services (DHHS), the parent agency of FDA.
In inch-high letters, all caps: DO YOU WANT THAT SAFE OR MEDIUM-SAFE?
In quarter-inch letters, also caps: USE A FOOD THERMOMETER TO MAKE SURE YOU COOK RAW MEAT AND POULTRY TO A BACTERIA-KILLING TEMPERATURE.
The ad also displays the Cook, Clean, Chill, Separate logo and the admonition to "Keep your family safer from food poisoning.  Check your steps at foodsafety.gov."
Mind you, I'm highly in favor of following food safety procedures at home.
But most food safety problems are not due to the failure of home cooks to use thermometers.
They are caused by failures to observe food safety procedures during commercial production and preparation.
Shouldn't meat and poultry be safe when you buy it in the supermarket?
This ad implies that the principal responsibility for food safety lies with the end user—you.
If you get sick it's your fault because you didn't use a meat thermometer?
USDA and DHHS:  how about getting the Ad Council to encourage meat and poultry producers to make sure their products are safe in the first place.