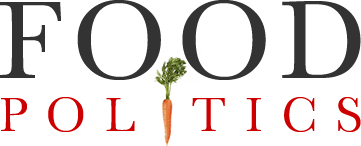 by Marion Nestle
School lunch rules caught up in politics
Here's my monthly (first Sunday) Food Matters column for the San Francisco Chronicle.  For links to appropriate resources and what to do to defend the new standards, scroll down to Friday's post.
Nutrition and public policy expert Marion Nestle answers readers' questions in this column written exclusively for The Chronicle. E-mail your questions to food@sfchronicle.com, with "Marion Nestle" in the subject line.
Q: Can you please explain to me why the USDA is restricting the number of calories in school lunches. It's bad enough that school food is so awful that the kids won't eat it. Now are they supposed to go hungry as well?
A: I don't know whether to laugh or cry at a question like this or at the uproar over the U.S. Department of Agriculture's new nutrition standards. As Comedy Central's Jon Stewart pointed out in his not-to-be-missed commentary on Sept. 27, if kids aren't eating the food because they hate it, the calorie limits hardly matter. And if kids are hungry, the remedy is simple: Eat the food.
The new lunch standards hardly call for starvation rations. Kindergarteners through fifth-graders get up to 650 calories. The maximum is 700 for kids in grades six through eight, and 850 for high schoolers. All kids can have extra servings of vegetables. This ought to be plenty to get most of today's kids – sedentary, underactive and prone to obesity as they are – through any school day.
Let's face it. This uproar has nothing to do with school food. It has everything to do with election-year politics.
Some Republicans view school meals as convenient generator of emotional opposition to the incumbent president.
You don't believe me? Take a look at the "No Hungry Kids Act" introduced by Reps. Steve King, R-Iowa, and Tim Huelskamp, R-Kan., both members of the House Agriculture Committee.
Their act would repeal the USDA's hard-won nutrition standards and prohibit upper limits on calories. As King explains, this is to undo "the misguided nanny state, as advanced by Michelle Obama's Healthy and Hunger-Free Kids Act."
You can't make this stuff up.
Let me briefly review where these standards came from. In 2004, Congress required school districts to develop wellness policies, but left the details up to the districts. In part to resolve the resulting inconsistencies, Congress asked the USDA to develop new nutrition standards. In turn, the USDA asked the Institute of Medicine to study the situation and make recommendations.
The institute's 2009 report called for aligning school meals with the Dietary Guidelines for Americans by increasing fruits, vegetables and whole grains, but reducing saturated fat, sodium and calories. It suggested encouraging students to try new vegetables by establishing weekly requirements for various kinds, but to limit starchy vegetables like potatoes to one cup a week.
In 2010, Congress passed the Healthy, Hunger-Free Kids Act which required the USDA to set nutrition standards for all food sold and served in schools, not only at breakfast and lunch, but also at any time during the school day. The USDA used the institute's report as a basis for its proposals.
These, you may recall, got the USDA in trouble with lobbyists for businesses that supply French fries and pizza to schools. The Senate intervened and amended the agriculture spending bill to say that none of its funds could be used to "set any maximum limits on the serving of vegetables in school meal programs" or "require crediting of tomato paste and puree based on volume." The results include no weekly limits on French fries; a dab of tomato paste on pizza now counts as a vegetable serving.
With these allowances in place, the USDA released the new standards in January. Most observers viewed them as an important accomplishment of the first lady's Let's Move campaign to end childhood obesity within a generation.
What about student outrage that the new meals leave them hungry? As a strong supporter of student activism, I applaud students getting involved in protests. Their actions have already persuaded Agriculture Secretary Tom Vilsack to tell kids to eat healthy snacks if they are hungry.
Perhaps student activism around calories will be a first step toward advocacy for more substantive goals for their education and wellness: more and better paid teachers, better educational materials, more sensible testing, better quality food in schools, and instruction in how to grow, harvest and cook food.
But where, I wonder, are the adults in all of this? Childhood obesity is not trivial in its consequences for many kids, and school food ought to be a model for how healthy, delicious food is normal fare.
Schools in which adults – principals, teachers, school food personnel and parents – care about what kids eat and act accordingly are setting examples that what kids eat matters just as much as what kids learn.
It's shameful that elected officials would attempt to undermine the health of America's children for partisan political purposes.
Marion Nestle is the author of "Why Calories Count: From Science to Politics," as well as "Food Politics" and "What to Eat," among other books. She is a professor in the nutrition, food studies and public health department at New York University, and blogs at foodpolitics.com. E-mail: food@sfchronicle.com