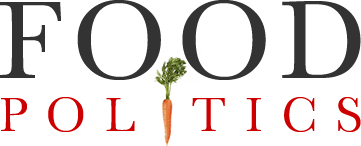 by Marion Nestle
The endless GMO saga: today's chapter
A reader writes: "Any chance you might weigh in on the latest GMO piece in the times?"
Sure.  This article, in case you missed it, puts anyone who opposes GMOs in the same camp as climate denialists.
I haven't commented on it because I wrote a book about the topic in 2003—Safe Food: The Politics of Food Safety—in which I said everything I had to say about the topic.  Nothing new has happened since.
In that book, I argued that the safety of GMOs is a surrogate for what people really worry about but aren't allowed to discuss: corporate control of the food supply.
I drew on the literature of risk communication to explain what kinds of issues most worry the public: those that are technological, unfamiliar, and under someone else's control.
Why should the public trust GMOs?  They are under corporate control and not labeled.
By pouring money into fighting labeling, the biotech industry looks like it's got plenty to hide.  
For one possibility about what's hidden, take a look at Tom Philpott's take on the need for stronger and increasingly toxic pesticides to overcome the weed resistance to Roundup that is now widespread.
Now that GMO labeling initiatives are making some headway, guess what:
PoliticoPro tells us tells us that the Grocery Manufacturers Association (GMA) now wants the industry to do voluntary labeling.  According to a leaked draft for discussion, the Association is working on legislation to send to Congress.  This would:
Require FDA to set up a voluntary labeling standard for foods that do not contain GMOs and determine the safety of GMO products.
Preclude states from adopting any laws that are not identical to the federal requirements and create a legal framework so that FDA can take a more active role in regulating GMO-labeling claims.
Require GMO producers to notify the FDA about all new bioengineered foods four months before they could be marketed.
Require FDA to define "natural"
Set up a national standard for voluntary GMO labeling

 
While you are waiting for all this to happen, take a look at the Wall Street Journal's perspective on this video: Can you spot the GMOs in your grocery store?
Here's what JustLabelIt's Executive Director Scott Faber says:
This 'Hail Mary' pass comes too late to deny consumers the right to know what's in their food. Two states have already given consumers the same rights as consumers in 64 other countries around world, and 20 more states are poised to pass GE labeling legislation in 2014. Now is the time for food companies to work with JLI and others to craft a national mandatory labeling system, not make desperate moves to block states from protecting their consumers from misleading "natural" claims or to tie FDA's hands in red tape.
Really, labeling would solve lots of problems, but let's make it mandatory please.