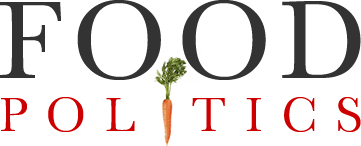 by Marion Nestle
The FDA's new pro GMO propaganda
You would think the beleaguered FDA would have better things to do.
It sent out a press release announcing new "Feed Your Mind" materials to increase public and professional understanding of GMOs, in partnershipwith USDA and EPA.
My first question: Who paid for this?
The answer:
Funding for the "Feed Your Mind" initiative was provided by Congress in the Consolidated Appropriations Act of 2017 to conduct "consumer outreach and education regarding agricultural biotechnology and biotechnology derived food products and animal feed, including through publication and distribution of science-based educational information on the environmental, nutritional, food safety, economic, and humanitarian impacts of such biotechnology, food products, and feed."  More funds were provided through 2018 and 2019 Appropriations bills.
How's that for effective lobbying by the food biotechnology industry!
Why do I think this is pro-GMO propaganda?
I started with the Discussion Guide for Health Educators.  It has just a few questions and answers.  For example:
Q.  Are GMO's safe to eat?

A.  Yes…they are just as safe to eat as non-GMO foods.

Q.  Is here a link between GMOs and cancer?

A.  No.  GMO crops are not changed in ways that would increase the risk of cancer for humans or animals.
I don't think these answers are necessarily wrong.  They just don't tell the whole story.
These materials have nothing to say about:
Consolidation in the biotechnology industry
Corporate control of commodity agriculture
Glyphosate, the herbicide used with GMOs and considered carcinogenic by international health agencies and US courts
How GMO crops have taken over, driving out everyone else
How pesticides used on GMO crops contaminate organic production
The ways GMO companies harrass independent farmers by enforcing intellectual property rights
How the Farm Bill subsidizes GMO corn and soybeans, causing them to be overproduced and corn to be used for ethanol
Congress's absurd Bioengineered labeling, widely ignored.
The consequent lack of transparency in the supermarket
No wonder so many people look for Non-GMO labels on food products.
Take a look at these materials and judge for yourself (I particularly recommend the video for consumers).  It and the rest are quite short.
A video and infographic for consumers:
A video and discussion guide for health educators:
A video and factsheet developed in partnership with the Academy of Nutrition and Dietetics for registered dietitians (RDs)/registered dietitian nutritionists (RDNs) and nutrition and dietetics technicians, registered (NDTRs). Interested RDs/RDNs and NDTRs can earn free continuing education units through the Academy of Nutrition and Dietetics' EatRight® Store.
For More Information