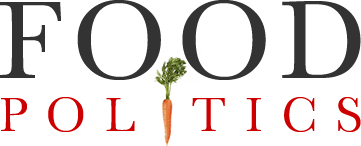 by Marion Nestle
On deadline: comments on FDA's food label proposals
The FDA is taking comments on its proposals to revamp the food label through August 1, 2014 (instructions are at bottom of post).
I've already filed comments on Added Sugars and on whether Vitamin D should be added to food labels.
And I just filed further comments on the FDA's proposals for the Nutrition and Supplement Facts Labels.  If you would like to read what I said, click here.
I've also filed comments on the FDA's Serving Size proposals.
These proposals are highly technical and tough to slog through, so I tried to deal with the big picture.
July 27, 2014
TO:                  FDA
FROM:           Marion Nestle, Professor of Nutrition, Food Studies and Public Health, New York University
RE:                  Comments: Serving size proposals, Docket No. FDA-2004-N-0258
In addressing the question of how to change serving size designations on food labels, FDA is faced with an impossible dilemma .  Serving sizes, which are supposed to be based on amounts typically consumed from packaged products, are invariably perceived as recommendations for dietary intake.
To comment on each of the bold-face, italicized points:
Typically consumed:  This information derives from dietary intake surveys which invariably underestimate actual intake, often by 30% to 40%.
Packaged foods: Food labels only appear on packaged foods.  RACC amounts on packaged foods are often much lower than amounts served in restaurants or fast-food places (pizza is an obvious example).  It is unclear whether amounts reported as consumed are from packages (with Nutrition Facts labels) or are from restaurants or fast-food places where portion sizes can be much higher than those for foods in packages.
Recommendation:  Substantial anecdotal information suggests that people view labeled serving sizes as what they should be eating.  They view the serving sizes as meaningless compared to the portion sizes of foods they are accustomed to eating.
What is well established is that overall calorie intake has increased since RACCs were established in 1993 and marketplace portion sizes have also increased.
Therefore, any increase in RACC runs the risk of being interpreted as a validation of current portion sizes and as a recommendation to eat more.
On the other hand, larger portions have more calories.  These must appear on the label.
To address this dilemma, FDA should:
Make dual-column labeling mandatory for all food and beverage packages likely to be consumed in one sitting.
Require total calories in the package to be displayed on the front of the package.
Include a footnote explaining that the serving size is not meant as a recommendation
INSTRUCTIONS FOR FILING COMMENTS
The FDA provides:
File comments here