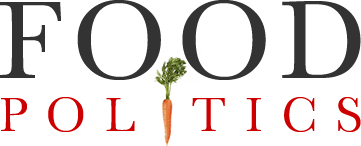 by Marion Nestle
The Healthy Nation Coalition doesn't like the Dietary Guidelines. But what does it want?
This is my week to be talking about the Dietary Guidelines, apparently.  Yesterday's Politico Morning Agriculture, a news source on which I greatly depend, noted yet another attack on the Dietary Guidelines, this one from a group called  The Healthy Nation Coalition.
The Coalition wrote a letter to the secretaries of USDA and HHS, the agencies sponsoring the Guidelines, with many complaints about process and ineffectiveness.
I had never heard of this group, so I went to its website and laughed when I saw this graph—a terrific example of why epidemiologists insist that association does not necessarily say anything about causation.
The implication here is that the Dietary Guidelines either cause obesity (something patently absurd) or have had no effect on its prevalence (something only to be expected given the other changes in society that predisposed to obesity beginning in the early 1980s).
If anything, the Dietary Guidelines are a result of those forces in society, not their cause.
I have my own issues with Dietary Guidelines (see Fo0d Politics), mainly about the use of advice that is euphemistic ("choose lean meats") or incomprehensible (reduce SoFAS—solid fats and added sugars), and their focus on nutrients (fat, sugar, salt) rather than foods.
But I can't understand what this Coalition is about or what it wants.
Its website says the Coalition formed because
A sense of community has arisen around questioning our current approach to food and nutrition. Healthy Nation Coalition has its beginnings in the ancestral health, Weston A. Price Foundation, and low-carbohydrate nutrition communities.
I understand what the Coalition does not want.  It
suggests that the 2010 Guidelines are not appropriate for population-wide diet recommendations, especially with regard to restrictions on dietary fat, saturated fat, cholesterol and salt.

indicates that the 2010 Guidelines may lead to increased risk of weight gain, diabetes, and chronic disease in many populations.

indicates that reducing intake of sugars and starches has health benefits.

indicates that adequate, complete protein is a critical part of the adult diet and that many adults benefit from intakes above current minimum recommendations.
Here's what it says it wants
the Healthy Nation Coalition proposes that this process be removed from the USDA and HHS and given to one or more independent agencies, offices, or entities that can create dietary guidance that is without bias and responsive to the needs of the people of America.
Really?  Like what?
The "ask" in the letter is this:
It is the duty of USDA and DHHS leadership to end the use of controversial, unsuccessful and discriminatory dietary recommendations. USDA and DHHS leadership must refuse to accept any DGA that fail to establish federal nutrition policy based on the foundation of good health: adequate essential nutrition from wholesome, nourishing foods. It is time to create DGA that work for all Americans.
But what would they look like?
I don't recognize any of the names of the individuals listed as part of the Coalition.
Can anyone explain to me what this group wants and is about?