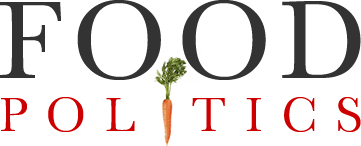 by Marion Nestle
The Blue Bell ice cream recall: a roundup
I was interested to read Michael Taylor's comments on the recall of Blue Bell ice cream contaminated with Listeria.  Mr. Taylor is Deputy FDA Commissioner for food safety.
This was an outbreak in which 10 people were hospitalized and three died.  The best place to begin on this is on the CDC website for the Blue Bell outbreak.  It provides excellent graphics summarizing the number of cases and where they occurred:

This outbreak was particularly awful because inspections had found severe violations of standard food safety procedures, yet the company ignored them.  The result: people died.
Mr. Taylor asks if this outbreak could have been prevented with better FDA regulation.  In 2010, Congress passed the FDA Food Safety Modernization Act (FSMA) but it's taken time for the implementation.  Taylor says:
the preventive controls for human food rule, if finalized as proposed, would require that companies like Blue Bell have a written food safety plan, based on an analysis of likely hazards, and companies would have to show us that plan during inspections.Listeria monocytogenes is a classic example of a hazard that a company should be controlling. Under the proposed standards, companies would be required to have the right controls in place to minimize hazards and would have to verify that their controls are working.
But, he says, to implement the law, the FDA needs funding: "If we do not get the funding, we will lose momentum, and implementation will be badly disrupted."
Congress, no doubt, will continue to keep the FDA on a short string.  No industry likes being regulated and the food industry fights regulation in every way it can.
The FDA needs to do more to ensure food safety but can't without inspectors.
That leaves legal approaches.  For these, I go right to the websites of the Marler-Clark law firm, which specializes in food safety cases.
Here's what Bill Marler and his colleagues have had to say about the Blue Bell case (most recent first and I may be missing some):
Marler-Clark is filling a critical regulatory gap by suing companies that cause foodborne illnesses and deaths.  But this is after-the-fact.
As Bill Marler has been pleading since 2007: please put me out of business.
Prevention would be much, much better.  Hence the need for more FDA resources.
Update, June 12: The CDC concludes its investigations and the FDA releases reports