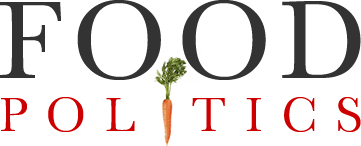 by Marion Nestle
Update on the school meal situation
School is starting and the school food debates will no doubt be starting up again.
The USDA has a new report on what's happening with adoption of the new nutrition standards.
A national study of elementary school principals and foodservice managers finds the majority (63%) to agree or strongly agree (7%) that students seem to like the new lunches.
The participation rate for paid school lunches declined from FY 2008 through FY 2014, with steeper declines during FY 2012-2014.  This could be do to the changes in standards but is more likely the result of higher prices charged for meals.
Smaller, more rural, and wealthier districts had the most difficulty adopting the new meal standards. Higher meal prices affected smaller and more rural districts.
The 2015 School Food Poll conducted by the Kellogg Foundation just reported:
90% of respondents support the national school nutrition standards.
86% say the school nutrition standards should stay the same or be strengthened.
91% say kids need access to safe drinking water in schools.
88% support increased government funding to expand farm to school programs.
84% believe sustainable agriculture should be part of the Dietary Guidelines for Americans.
The Kellogg Foundation provides
My interpretation: The nutrition standards are working well enough but it's time to advocate even more strongly for universal school meals.  It's absurd and unconscionable that poor kids are getting priced out of school meals.
Addition: The School Nutrition Association, the group doing everything it can to undermine the new nutrition standards, has just issued a report finding that the standards have caused severe financial harm to 70% of schools.  The reason?
There is strong consensus as to the leading reason for the decline in lunch ADP: decreased student acceptance of meals [.underlined in report].
The report does, however, provide a table of reasons for increased costs:
Increased per meal food costs — 70.1%
Decreased lunch participation — 56.8%
Decreased a la carte revenue — 53.0%
Increased labor/benefits costs — 48.5%
Declining student enrollment — 20.6%
Given these results, you might think the SNA would be lobbying night and day for higher reimbursement rates, but no such luck.  The SNA is lobbying for weaker standards.  Pity.
Addition, August 25:  A study from the University of Vermont finds school kids to be consuming slightly fewer servings of fruits and vegetables since the nutrition standards were implemented and to be producing 56% more plate waste.  This is not good news.
Addition, August 28:  But a CDC study finds that in 2014, schools were making significant progress:
Almost all schools offered whole grain foods each day for breakfast (97.2%) and lunch (94.4%)
Most schools offered two or more vegetables (79.4%) and two or more fruits (78.0%) each day for lunch.
Approximately one third (30.5%) of schools offered self-serve salad bars.
Among the 55.0% of schools that prepared food at the school, about half were trying hard to reduce salt.
Overall, 97.5% of schools used at least one of the nine school nutrition services practices examined, with 23.9% using one to three of the practices, 48.3% using four to six of the practices, and 25.3% using seven or more of the practices.
My interpretation: Schools are moving to adopt the new nutrition standards.  Some are succeeding better than others.  The outcome of studies therefore depends on whether you see the glass as half full, or empty.