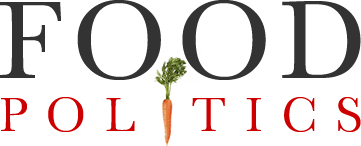 by Marion Nestle
"Superannuated Chardonnay Socialist!" Moi?
The Australian Broadcasting Corporation's Sarah Whyte of ABC 7:30 interviewed me and others for a 6-minute segment on Coca-Cola's funding of health researchers.  Here's an excerpt from the transcript:
TIM OLDS, UNI. OF SOUTH AUSTRALIA: I've got about $26 million worth of funding, and of that, probably less than $2 million would have come from industry sources. Most of it comes from government schemes such as the NHMRC and the ARC, a lot from government departments.

SARAH WHYTE: So when you take that funding, do you get other academics saying you shouldn't be taking funding from that?

TIM OLDS: We get a lot of academics saying that.

SARAH WHYTE: He disagrees with people like Marion Nestle who says his work is compromised.

TIM OLDS: I think frankly this is an example old-style, superannuated chardonnay socialism.
Oh.
Here's what he's referring to (the dates are Australian).
February 17  Marcus Strom, a business reporter with the Sydney Morning Herald, invites me to lunch to discuss issues related to Soda Politics.
February 24  Strom publishes an article based on our conversation: "What Coca-Cola isn't telling you about its health funding in Australia" (the video tells the story).
February 26  The Sydney Morning Herald publishes Strom's account of our lunch interview.
March 1  I give a lecture on Soda Politics at the University of Sydney.
March 3  In response to my remarks, the director of Coca-Cola Amatil makes this statement: "one can [of soda] a week not unhealthy."
March 10  Coca-Cola publishes a preliminary version of its "commitment to transparency," listing some of the community organizations it funds.
March 10  Strom writes an analysis of the transparency list—$1.7 million in support of research over five years—noting several key omissions.
March 10  ABC 7:30 runs its video (and see transcript).
March 10  A blogger publishes a list of individuals funded by Coca-Cola during that period.
March 11  Coca-Cola releases the complete version of its transparency list, including the names of individuals.
March 11  I receive an e-mail message from a Coca-Cola official stating the company's commitment to transparency.
We are continuing to progress on our commitment to enhance our transparency in markets across the globe. Today, in Australia and New Zealand, we launched country-specific websites listing our health and well-being partnerships, research and health professionals and scientific experts that have received financial support from Coca-Cola from 2010-2015. In December 2015, we launched sites with this information in Great Britain, Germany, France, Ireland, Denmark, Finland, Belgium, Sweden, Norway and the Netherlands.  We will publish the six-month update for the U.S. later this month.
March 11  Strom attempts to interview the 14 health experts on Coca-Cola's list; most don't return his calls.
Coca-Cola deserves much praise for following through on its transparency commitments.  The aftermath continues.
Additions: New Zealand transparency and more from Australia
March 3: Coke: One can a week 'not unhealthy'
March 11:  Coca-Cola cash went to NZ health organisations and research
March 11: Coca-Cola funds research in NZ, NZ Herald
March 13: Three Kiwi health professionals took money from Coca-Cola
March 14:  Gary Moorhead, past CEO of Sports Medicine Australia argues that shaming researchers does no good
March 15: NZ Dominion Post editorial says dentists should not take money from Coca-Cola
March 16: The Press, New Zealand, editorial on whether Coca-Cola should be paying scientists