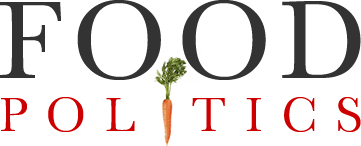 by Marion Nestle
Soda Politics gets Presidential: Sanders v. Clinton on soda taxes
Talk about soda politics! I can hardly believe it but soda taxes have become an issue in the Democratic primary campaign.
This started when Hillary Clinton came out in favor of Philadelphia Mayor Jim Kenney's proposed soda tax.
I'm very supportive of the mayor's proposal to tax soda to get universal pre-school for kids. I mean, we need universal pre-school. And if that's a way to do it, that's how we should do it.
Given the Clinton Foundation's long-standing relationship with Coca-Cola, this was unexpected.
In short order, Bernie Sanders distanced himself from her position:
I do not support Mayor Kenney's plan to pay for this program with a regressive grocery tax that would disproportionately affect low-income and middle-class Americans. I was especially surprised to hear Hillary Clinton say that she is "very supportive" of this proposal. Secretary Clinton has vowed not to raises taxes on anyone making less than $250,000 per year. For reasons that are not clear, she has chosen to abandon her pledge by embracing a tax that targets the poor and the middle class while going easy on the wealthy. That approach is wrong for Philadelphia, and wrong for the country.
This, in turn, induced Paul Krugman, who seems to have little love for Sanders anyway, to weigh in:
It does seem worth pointing out that progressivity of taxes is not the most important thing, even when your concern is inequality. Notably, Nordic countries — very much including Denmark, which Sanders has praised as a model — rely heavily on the VAT, which is a regressive tax; but they use that revenue to pay for a strong social safety net, which is much more important.

If we add in the reality that heavy soda consumption really is destructive, with the consequences falling most heavily on low-income children, I'd say that Sanders is very much on the wrong side here. In fact, I very much doubt that he'd be raising the issue at all if he weren't still hoping to pull off some kind of political Hail Mary pass.
Soda tax proponents wish that Sanders had better understanding of the health issues.
Proponents say Diabetes is regressive.
Here's information from the table from Soda Politics on framing the soda-tax debate (see page 385).
| | |
| --- | --- |
| OPPONENTS SAY | ADVOCATES SAY |
| Taxes are a blunt instrument of government intervention. | Taxes can encourage healthier food choices while generating needed revenue. |
| No compelling evidence links sodas to obesity or other health problems. | Research sponsored by independent agencies, not soda companies, clearly links soda consumption to overweight and poor health. |
| Soda taxes are regressive. They disproportionately hurt poor people. | Diabetes is regressive. Obesity and diabetes disproportionately hurt poor people. |
| Governments should stay out of personal choice. | Governments should protect the health of citizens. |
| Soda choice is a matter of personal responsibility. | Taxpayers fund health care costs. Obesity and diabetes are matters of social responsibility. |
| Soda companies are already making healthful changes to their products. | Soda companies heavily market sugary beverages. |
| Soda sales have declined while obesity rates remain high; Sodas cannot be responsible for obesity. | Obesity rates are stabilizing as soda sales decline. Sales of some other sweetened beverages are increasing. All should be taxed. |
| Sodas are not cigarettes or alcohol; They do not cause the same level of harm. | The health effects of sodas increase health care costs for everyone. |
| Soda taxes lead to unintended consequences; Decreases in consumption will be offset by other sources of calories. | Cigarette taxes decreased smoking; Let's try taxing sodas and see whether it works. |
| Everyone opposes nanny-state soda taxes. | Soda taxes linked to health programs have strong bipartisan support from public health organizations, city officials, and policy centers. |