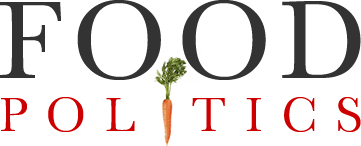 by Marion Nestle
Coca-Cola Europe's policy agenda, courtesy of WikiLeaks
Ninjas for Health posts this graphic from someplace in the emails leaked to DCLeaks (it's good they are going through them so we don't have to).  
The Ninjas point out that Coke divides the policies into three categories based on likelihood of happening and impact on sales:
Fight back
Monitor
Prepare
The policy with the biggest impact greatest likelihood of materializing?  Increased soda taxes.
No wonder soda companies are fighting back against them.
Nancy Huehnergarth pointed out in an email that a ban on advertising to children under the age of 12 shows up in the "Prepare" category, even though soda companies insist that they do not advertise to young children.
It's interesting to see what Coca-Cola thinks has a high likelihood of happening: Protectionism against sugar imports, mandatory environmental labels, emission reduction targets, and the mysterious "provisions for lobbying."
The company has a lot to worry about, apparently.