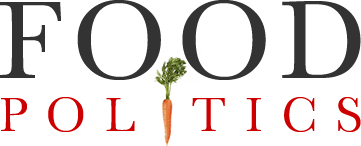 by Marion Nestle
WHO takes action against sugary drinks, urges taxes
The World Health Organization took two actions yesterday to encourage people to cut down on consumption of sugar-sweetened beverages.
It issued a report urging national governments to consider taxes: "Taxes on sugary drinks: Why do it?  
Governments can take a number of actions to improve availability and access to healthy foods and have a positive influence on the food people choose to consume. A major action for comprehensive programmes aimed at reducing consumption of sugars is taxation of sugary drinks. Just as taxing tobacco helps to reduce tobacco use, taxing sugary drinks can help reduce consumption of sugars.
It defines sugar drinks as products that contain added sugar, corn or fruit-juice concentrates and include carbonates, fruit drinks, sports drinks, energy and vitamin water drinks, sweetened iced tea, and lemonade.
It also took immediate action to remove sugary drinks from its Geneva headquarters
The agency explained this action:
The move signifies how seriously WHO is taking its leadership role in implementing policies to improve public health…By implementing this policy WHO is setting a positive example for Member States, other organizations and visitors…WHO vending machines, restaurants and coffee shops will continue to sell water, fizzy water, and unflavoured milks with different fat contents, teas and coffees, and beverages with non-sugar sweeteners (such as diet and zero calorie drinks). Sugar packets for use with tea and coffee will continue to be served.
These actions are getting plenty of attention.
The Guardian pointed out that:
Battle lines are being drawn in Colombia, where a consumer movement is pressing the case for a sugary drinks tax and the industry is fighting back…Last month, the Asociación Educar Consumidores – the consumer organisation which, like its Mexican equivalent, has backing from Bloomberg Philanthropies in the US – produced an educational video to be broadcast on television, warning that drinking too many sugary drinks can lead to diabetes and other diseases.

But after a complaint from Postobón, the Colombian beverage giant, the government's regulatory agency charged with consumer protection banned any showing of the video on TV, saying it was inaccurate and could confuse the public.
Michael Bloomberg, now a global ambassador for WHO issued a statement.
A growing number of cities and countries – including Mexico – are showing that taxes on sugary drinks are effective at driving down consumption. The World Health Organization report released today can help these effective policies spread to more places around the world, and that will help save many lives.
The International Council of Beverages Associations (ICBA) issued a statement:
ICBA is disappointed that this technical committee's report advocates the discriminatory taxation solely of certain beverages as a 'solution' to the very real and complex challenge of obesity. We strongly disagree with the committee's recommendation to tax beverages, as it is an unproven idea that has not been shown to improve public health based on global experiences to date.
Healthy Food America says the soda industry has spent $30 million to fight soda taxes, just this year.
WHO has just given its blessing to soda taxes.  Will countries respond?  How much more is the soda industry willing to spend to stop taxes?
Stay tuned.
Other accounts: