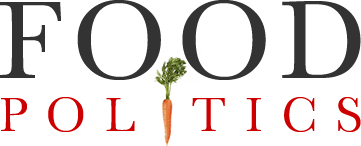 by Marion Nestle
The rolling back of nutrition standards
Rolling back nutrition standards #1: Added Sugars
The new administration is hard at work undoing the gains of the last one.
In my post on the nominee for FDA Commissioner, Scott Gottlieb, I noted that he'd been saying nothing about food.  Now he is.
He told Congress this week that he's open to "pushing back the Nutrition Facts label update deadline [of July 2018] to align it with USDA's coming GMO labeling regulation."
The Center for Science in the Public Interest (CSPI) has plenty say about this.  As it explains, the food industry wants the
deadline to be pushed back to align with the USDA's coming GMO disclosure regulation — a measure that isn't likely to kick in for a few years (at least)… Gottlieb suggested during the hearing that he may be open to aligning the deadlines…You want to try to consolidate the label changes when you're making label changes as a matter of public health, he said, adding that requiring companies to update their labels repeatedly is costly.
But wait!  Doesn't this sound just like what food company leaders said in March in a letter to HHS Secretary Tom Price?
On behalf of the food and beverage industry, we are writing to express our concern with the current compliance deadline of July 2018 for the Nutrition Facts and Serving Size (NFL) rules and to request extending the deadline to May 2021.
May 2021?  Let's hope we all live that long.
Reminder: Everyone would be healthier eating less sugar.
Rolling back nutrition standards #2: School food
According to Politico, Senate Agriculture Chairman Pat Roberts wants the USDA to undo the school meal nutrition standards put in place by the Obama administration.  In a letter to the USDA Acting Deputy Secretary, Roberts said:
I urge you to act administratively and provide immediate relief from certain egregious aspects of the standards, particularly in regards to the rapidly approaching sodium limits and the dairy and whole grain requirements,..After providing immediate relief, I urge you to provide long-term flexibility and certainty for our schools, our food service directors, and other stakeholders.
Reminder: the school nutrition standards are working just fine.