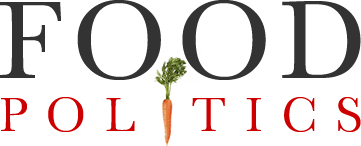 by Marion Nestle
Have some glyphosate with your food? Broccoli, at least, is glyphosate-free
Journalist/author Carey Gillam of US Right to Know has an article in The Guardian about glyphosate (Roundup) in food based on emails obtained in a lawsuit.
The emails concern FDA's testing of food samples for residues of glyphosate, the herbicide widely used with genetically modified crops.  The agency has not yet released the test results.
But the emails contain some interesting information.  For example, FDA chemist Richard Thompson writes that he had to use broccoli to establish testing standards.
I used broccoli because it's the only thing I have on hand that does not have glyphosate in it. I have brought wheat crackers, granola cereal, and corn meal from home and there's a fair amount in all of them.
How much?  We won't know until the FDA releases the data.
Glyphosate is widely used for growing GMO corn, soybeans, sugar beets, and other ingredients of highly processed foods.  It is not surprising that residues remain in products made from GMO ingredients.
Should we be concerned?
One agency, IARC, judges glyphosate as a probable carcinogen, but industry scientists strongly dispute this decision and are fighting it in court.
We need better data for sure, but in the meantime it is hard to believe that glyphsate residues are good for us.
These findings are another reason to avoid ultraprocessed foods and eat your veggies.