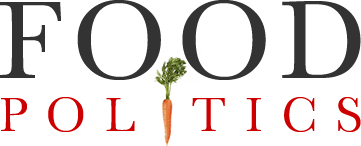 by Marion Nestle
Pork Barrel Politics: Trade and Other Issues
Pork.  I love the term.  It reeks of politics.
Pork's Trade Problem
I've been following the pork industry's problem with the Trump Administration's trade policies with much interest.
We imposed tariffs on steel and other such things.  Countries are retaliating by imposing their own tariffs—with pork high on the list.
Japan, China, and Mexico are our biggest markets for pork.  Oops.  They are now looking to Europe as the source.
The USDA's livestock, dairy and poultry outlook report predicts a big drop in hog prices.
Pork's With-Friends-Like-These Problem
And then there's IRep. Steve King (R-Iowa).  In a Breitbart News radio interview, he says he doesn't want Somalis working in meat-packing plants: "I don't want people doing my pork that won't eat it, let alone hope I go to hell for eating pork chops," he concluded.
This follows a tweet he sent recently.
I suspect there are less confrontational and more effective ways to defend his home-state's industry.  I wish them luck.
Pork's Price-Fixing Problem
A lawsuit alleges that Hormel and other pork companies colluded to raise pork prices.  It was the lawsuit filed last week that attracted plenty of headlines.  They did this using Agri Stats, an information system accused of rigging the poultry industry.
Hormel Foods issued a statement denying the allegations:
Hormel Foods is a 127-year-old global branded food company with a reputation as one of the most respected companies in the food industry…We are confident that any allegations such as these are completely without merit. We intend to vigorously defend this lawsuit.
Pork's Environmental Legal Problem
The courts are beginning to rule against Big Pork in cases where communities are complaining about odor and environmental contamination.  Smithfield, now owned by China, just lost a case.
Expect more such cases to follow.