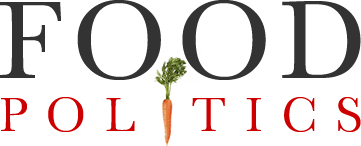 by Marion Nestle
Weekend Reading: Food Citizenship (I'm in it)
Ray Goldberg.  Food Citizenship: Food System Advocates in an Era of Distrust. Oxford University Press, 2018.
As should be obvious from this cover, I have a special interest in this book.  For more than 20 years, I've been attending an annual meeting of food industry executives, entrepreneurs, and a sprinkling of advocates, government officials, and academics brought together by its author, Ray Goldberg, to try to encourage mutual understanding if not agreement.
When the meeting started, Ray was an agribusiness professor at the Harvard Business School.  After his retirement, the meeting moved to the Kennedy School of Government.  It still continues.
This book consists of Ray's interviews with dozens of people who have attended this meeting over the years.  Ray interviewed people with an enormous range of involvement in food as well as of opinion about what should be done to improve food systems.
If truth be told, I always felt like a spectator at this meeting, and I am enormously surprised and honored to see that my interview comes first in the book, and that Ray mentions it in his introduction and conclusion.
I think the book is worth reading.  Or, as it happens, watching.
Oxford has posted the videotaped interviews online.  Here's mine.