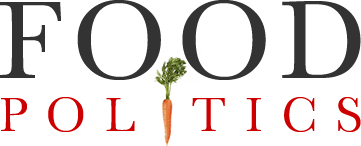 by Marion Nestle
Why food companies should not have a role in formulating obesity policy
I was interested to read FoodNavigator-Asia's account of food industry comments on what to do about obesity is Australia.
By all reports, two-thirds of Australian adults meet definitions of overweight or obesity, along with a quarter of all children.  A Senate committee is collecting ideas about what to do about this, including those from the food industry.
Food-Navigator-Asia has taken a look at some of the submitted comments, particularly in light of comments from medical groups encouraging social, environmental, regulatory and medical interventions, and arguing that food companies should be kept out of formulating policies due to their inherent conflicts of interest.
The article quotes three companies.
Coca-Cola Amatil says taxes would be counterproductive because it is already reducing the sugar in its products.
Fonterra (a dairy company) says obesity is not the problem; instead, underconsumption of dairy products is the problem.
Nestlé [no relation] blames consumers; it is trying to reduce salt and sugar in its products but the public isn't buying them.  It also blames government, which it says should do a better job of educating the public about diet and health.
Obesity poses a formidable problem for food companies making junk foods.  They have stockholders to please.  They cannot be expected to voluntarily act in the interest of public health if doing so affects profits.
That is why food companies should have no role whatsoever in developing policies to prevent or treat obesity.