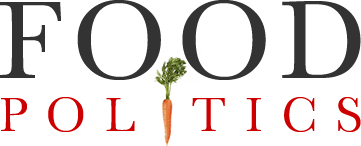 by Marion Nestle
Trump's trade policies hurt the heartland
I am ever surprised by the extent to which Trump Administration's policies directly harm its core supporters.  Two recent reports tell the story.
One comes from a group called Tariffs Hurt the Heartland, which has produced an accounting of the losses to businesses in Texas as a result of Republican trade policies—$424 million gone, just in August. 
Some of this affects farmers:
Scott Frazier, a south Texas farmer and Secretary-Treasurer of the Texas Farm Bureau, warned that tariffs will have long-term consequences for agriculture by shuttering the foreign markets that farmers in Texas and across the country depend on.  One quarter of our agricultural products grown in the U.S. are exported to other countries. The economic well-being of American agriculture depends on maintaining and strengthening our export markets, and farm and ranch families depend on this to survive.
This group also has produced an interactive, searchable map at
TariffsHurt.com
 that let's you find stories of how tariffs are affecting local communities, state by state, and you can learn more about the campaign
here
.
The second report comes from the Brookings Institute.  It analyzes the effects of Trump's trade wars on his base.
The report comes with a spreadsheet where you can look up the data for yourself.
Trade wars have consequences, in this case for U.S. agriculture, which according to this report accounts for 15% of the retaliatory tariff burden:
The retaliatory tariffs differ by trading partner, but there are some commonly targeted industries. All four markets focused tariffs on agricultural products. Agriculture cuts a very specific geography across the United States, particularly implicating metro areas in California's Central Valley as well as rural areas and small towns in states like Illinois, Iowa, and Nebraska.
Ouch.