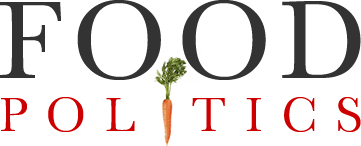 by Marion Nestle
Ithaca's farmers' market: the annual rutabaga curl
I was lucky to be in Ithaca for the end of the farmers' market season on Saturday and the not-to-be-missed Rutabaga Curl, now in its 21st year.
Contestants hurl rutabagas toward a traffic marker.  The one that gets closest wins.
Ithaca's mayor, the charismatic Svante Myrick, does the opening curl.
The event begins with the kid curlers:
This is Ithaca, after all, so there are protesters.
I'm not much of a sports fan, so I come for the performance of the Rutabaga Chorus by Ithaca's Vociferous Cruciferous Choir to the tune of Handel's Messiah (its last-minute rehearsal).
I went once before in 2012 (unfortunately, the links seem to have disappeared).
But my favorite lines remain the same: "Rutabaga! Rutabaga!  Repeat refrain, forever and ever.  Rutabaga."
Happiest of holiday seasons.