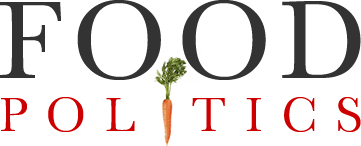 by Marion Nestle
American Society for Nutrition's "Trust" report: open for membership and public comment
Last week, I received a press release from the American Society for Nutrition (ASN) announcing the release of the long-awaited (by me, at least) report of its Blue Ribbon Panel, "Best practices in nutrition science to earn and keep the public's trust."
The Blue Ribbon Panel was created in response to a growing perception among researchers that public trust in nutrition science is eroding as nutrition information is increasingly being received from an expanding variety of sources, not all of which are clear about their motivations, qualifications, or ethical standards…The panel, an independent group composed of 11 members from a variety of disciplines, was charged with identifying best practices to allow effective collaborations while ensuring that ASN's activities are transparent, advance research, and maintain scientific rigor, engendering trust among all nutrition science stakeholders.
I have long been troubled by ASN's partnerships and financial relationships with food companies, which make it appear as an arm of the food industry rather than an independent source of information and advocacy for public health nutrition.
I spoke to the Panel about my concerns in April 2016 at its first (and only in-person) meeting about how I would be writing about these concerns in my then-forthcoming book, Unsavory Truth: How Food Companies Skew the Science of What We Eat.  The book includes a chapter—"Co-opted? The American Society for Nutrition"—devoted to this group's ties to food companies:
In that chapter, I talk about ASN's corporate Sustaining Partners, sponsored awards and conference symposia, partnerships with dubious food-industry initiatives, industry-friendly position statements, limited disclosure of financial ties to food companies, and the beliefs of society officials in the value of industry ties.  In later chapters, I discuss the frequent publication of industry-sponsored research in ASN's scientific journals, and the industry affiliations of some journal editors and peer reviewers.  Overall, I note that "ASN's apparent support of food-industry objectives makes it seem to be favoring commercial interests over those of science of public health" (p. 138).
I also discussed my hopes for the Panel:
I thought appointment of the Trust Committee was an impressive step, especially because its members were distinguished experts in nutrition science, public perception, and conflicts of interest.  If any group could rise to the challenge—create a policy that allowed industry funding but protected integrity—this one could" (p. 129).
Alas, no such luck.  The Panel's recommendations largely were targeted to individuals.  Its members could not reach agreement on how the society should handle its own conflicted interests.  It made recommendations in six areas:
Manage conflicts of interest (COIs) in partnerships and activities
Uphold the standards for evidence-based conclusions in publications
Maintain effective dialogue between ASN, the public, and the media
Develop guidelines for conducting nutrition research funded by entities with COIs
Perform independent audits of adherence
Disclose all COIs of financial and other sources
The first is of particular interest.  The Panel gave ASN two options:
1A.  The ASN should enter into partnerships and other agreements only when these partnerships or agreements are supported exclusively by membership resources or not-for-profit entities with no COIs.
1B.  The ASN should develop a rigorous, transparent approach to cosponsoring and managing all activities financially supported by "entities and/or individuals at interest" [perhaps through an advisory board, or guidelines for individuals].
I, obviously, favor option 1A, mainly because of substantial evidence (reviewed in my book) that perceived conflicts of interest—and, therefore, distrust—cannot be eliminated by approaches that allow for financial ties to food, beverage, and supplement companies making products of dubious health benefit.
These options—and the other recommendations—are now open for comment by ASN members—and anyone else who is interested—at this site.
The deadline for comments is February 15.  I have filed mine.  Please do not miss this opportunity to weigh in on the kind of ethical standards you think this leading nutrition society should uphold.