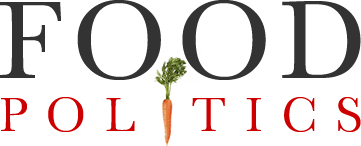 by Marion Nestle
Industry-supported review of the week: critique of ultra-processed
As I mentioned a couple of weeks ago, research is pouring in (see below) about the benefits of avoiding consumption of ultra-processed foods, those that are more than minimally processed and contain added sources of calories, salt, and color, flavor, and texture additives.
Since ultra-processed foods are among the most profitable, the makers of such foods wish this term would disappear.  Hence, this paper.
Julie Miller Jones.  Food processing: criteria for dietary guidance and public health? Proceedings of the Nutrition Society (2019), 78,4 –18
Conclusions: "No studies or β-testing show that consumers can operationalise NOVA's [the non-acronym name given to this food classification system] definitions and categories to choose nutrient-rich foods, to eschew foods of low nutritional quality and improve diets and health outcomes. Further, there are significant concerns about NOVA's actionability and practicality for various lifestyles, skillsets and resource availability.
Financial Support: The staff from the Academy of Nutrition and Dietetics, ASN [American Society for Nutrition], IFT [Institute of Food Technologists] and IFIC [International Food Information Council] assisted with the planning and facilitation of the conference calls and with the review and editing of the manuscript. No specific grant from any funding agency, commercial or not-for-profit sectors was received for the development of this manuscript.
Conflicts of Interest: Julie Miller Jones is a scientific advisor to the Grains Food Foundation, The Healthy Grains Institute (Canada), Quaker Oats Advisory Board, and the Campbell Soup Company Plant and Health Advisory Board. She has written papers of given speeches for Centro Internacional de Mejoramiento de Maíz y Trigo CIMMYT (International Maize and Wheat Improvement Center, Mexico), Cranberry Institute, and Tate and Lyle.
Comment: What most disturbs me about this review is its sponsorship by two major U.S. nutrition societies, Academy of Nutrition and Dietetics and ASN, whose first goal ought to be promoting public health.  Instead, they speak here for the food industry [I devote chapters to both organizations in Unsavory Truth].
The other two groups would be expected to support food-industry marketing objectives.  The IFT is the trade association for food scientists; it works for the food industry.  The IFIC Foundation positions itself as "dedicated to the mission of effectively communicating science-based information on health, nutrition and food safety for the public good" but is sponsored by food companies; this makes it a front group for the food industry.
Two more papers finding benefits for the ultra-processed concept just appeared in the BMJ.  These are discussed and cited here.