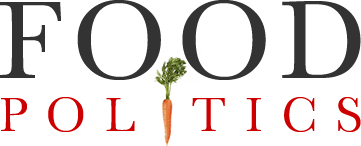 by Marion Nestle
Weekend reading and viewing: What the Democratic candidates have to say about food and agriculture
The New York Times carried a plea this week for more attention to food and nutrition policy from presidential candidates.
Civil Eats is tracking what they are saying.
So is Jerry Hagstrom, who has given permission to re-post these links from his Hagstrom Report, a daily newsletter about "agriculture news as it happens," to which I gratefully subscribe (the Washington Post just ran a story about him).
Hagstrom collected agricultural position statements posted by candidates in Iowa.
▪ Joe Biden — The Biden Plan for Rural America
▪ Pete Buttigieg — A Commitment to America's Heartland: Unleashing the Potential of Rural America
▪ — Securing a Healthy Future for Rural America
▪ John Delaney — Heartland Fair Deal
▪ Kirsten Gillibrand — Rebuilding Rural America for Our Future
▪ Kamala Harris (video) — Kamala Harris answers question on Rural America, July 4, 2019, Indianola, Iowa
▪ Amy Klobuchar — Plan from the Heartland: Strengthening our Agricultural and Rural Communities
▪ Tim Ryan — Improving Our Agriculture and Food System
▪ Bernie Sanders — Revitalizing Rural America
▪ Elizabeth Warren — My Plan to Invest in Rural America
▪ — The Farm Economy
▪ Donald Trump — Land and Agriculture: President Donald J. Trump Achievements
Videos of all the "soapbox" speeches, In alphabetical order
▪ Sen. Michael Bennet, D-Colo.
▪ Former Vice President Joe Biden
▪ Sen. Cory Booker, D-N.J.
▪ Montana Gov. Steve Bullock
▪ South Bend, Ind., Mayor Pete Buttigieg
▪ Former Housing and Urban Development Secretary Julián Castro
▪ New York City Mayor Bill de Blasio
▪ Former Rep. John Delaney, D-Md.
▪ Rep. Tulsi Gabbard, D-Hawaii
▪ Sen. Kirsten Gillibrand, D-N.Y.
▪ Sen. Kamala Harris, D-Calif.
▪ Former Colorado Gov. John Hickenlooper — Withdrew from race Thursday
▪ Washington Gov. Jay Inslee
▪ Sen. Amy Klobuchar, D-Minn.
▪ Rep. Seth Moulton, D-Mass.
▪ Rep. Tim Ryan, D-Ohio
▪ Sen. Bernie Sanders, D-Vt.
▪ Former Rep. Joe Sestak, D-Pa.
▪ Hedge fund manager and activist Tom Steyer
▪ Sen. Elizabeth Warren, D-Mass.
▪ Former Massachusetts Gov. Bill Weld, Republican
▪ Author Marianne Williamson
▪ Entrepreneur Andrew Yang