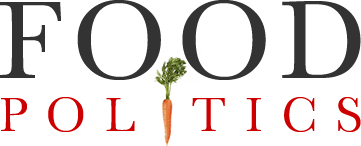 by Marion Nestle
Industry-funded study of the week: whole grains
Here's another study where I guessed its funder from its title.
Everyone knows whole grains are healthy and recommended.  Why do this study?  Maybe it helps to have more evidence?
Once you know the funder, you can also guess what the study will show.
To wit:
Whole Grain Wheat Consumption Affects Postprandial Inflammatory Response in a Randomized Controlled Trial in Overweight and Obese Adults with Mild Hypercholesterolemia in the Graandioos Study.  Hoevenaars FPM, et al. The Journal of Nutrition, 2019: nxz177, https://doi.org/10.1093/jn/nxz177
Objective: "The health impact of WGW [whole grain wheat] consumption was investigated by quantification of the body's resilience, which was defined as the 'ability to adapt to a standardized challenge.'"
Method: "A double-blind RCT [randomized control trial] was performed with overweight and obese…men (n = 19) and postmenopausal women (n = 31) aged 45–70 y, with mildly elevated plasma total cholesterol…who were randomly assigned to either 12-wk WGW (98 g/d) or refined wheat (RW)."
Conclusion: "Twelve-week 98 g/d WGW consumption can promote liver and inflammatory resilience in overweight and obese subjects with mildly elevated plasma cholesterol."
Funding: "Supported by the public private partnership entitled "Combining innovation with tradition: improving resilience with essential nutrients and whole wheat bread," financed by Topsector Agri & Food (TKI-AF 12083). This project was sponsored by TNO roadmap Nutrition and Health and co-funded by Cereal Partners Worldwide, the Dutch Bakery Center, and GoodMills Innovation GmbH. The funders of the study had no role in the study design, data collection, analysis, and interpretation, nor the preparation of the manuscript."
Comment: As I keep saying (see Unsavory Truth), funders do not have to be involved.  Their influence starts from the get-go, and usually shows up in the way the research question is asked, as seen in this example.  This study is not about finding out about how whole wheat affects health (basic science); it is about demonstrating benefits from whole wheat consumption (marketing).  I'm in favor of eating more whole wheat, rather than refined, but wish food companies selling whole grains would stay out of conflicted research.