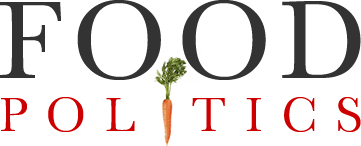 by Marion Nestle
USDA's Nutrition Education programs
I was astounded to learn that the USDA spends more than $900 million a year on nutrition education since I can hardly recall seeing any of it.
But now we have a Government Accountability Office (GAO) analysis of USDA's expenditures on nutrition education.
The GAO says that USDA does not:
Coordinate its nutrition education efforts
Use the expertise of USDA nutritionists
Make nutrition education a priority
Have leadership with responsibility for nutrition education
Share information across sub-agencies and avoid duplicating efforts
Assign nutrition education experts to appropriate sub-agencies
No big surprise here—I've been hearing such complaints since I worked for the government in the late 1980s—but it's good to see them documented.
Most of the report is about nutrition education for participants in WIC, SNAP, and other nutrition assistance programs.
Note that there is no line budget for promotion of the Dietary Guidelines for Americans, a statement of of federal nutrition policy, or for MyPlate, a food guide directed at the general public.  Funds to promote these documents have to be authorized by Congress.
Note also that while $900 million seems like a lot of money, it is considerably below what companies like McDonald's and Coca-Cola each spend on advertising every year.