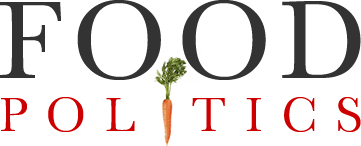 by Marion Nestle
Food politics issues for 2020: Science, Immigration, Taxes
Let's start the new year with three articles in the New York Times about policies that might not seem to but do bear directly on food politics.
Science Under Attack: How Trump Is Sidelining Researchers and Their Work
 "The disregard for expertise in the federal government is worse than it's ever been," said Michael Gerrard, director of the Sabin Center for Climate Change Law at Columbia University, which has tracked more than 200 reports of Trump administration efforts to restrict or misuse science since 2017. "It's pervasive."
At the USDA,
Secretary of Agriculture Sonny Perdue announced in June he would relocate two key research agencies to Kansas City from Washington: The National Institute of Food and Agriculture, a scientific agency that funds university research on topics like how to breed cattle and corn that can better tolerate drought conditions, and the Economic Research Service, whose economists produce studies for policymakers on farming trends, trade and rural America.  Nearly 600 employees had less than four months to decide whether to uproot and move. Most couldn't or wouldn't, and two-thirds of those facing transfer left their jobs.
The reaction?  In August, Mick Mulvaney, the acting White House chief of staff, appeared to celebrate the departures.
"It's nearly impossible to fire a federal worker," he said in videotaped remarks at a Republican Party gala in South Carolina…"What a wonderful way to sort of streamline government and do what we haven't been able to do for a long time."
After ICE Raids, a Reckoning in Mississippi's Chicken Country
The sweeping immigration raids on seven chicken plants in central Mississippi forced hundreds of Latino workers out and opened up jobs for African-Americans.  The article quotes one saying "it felt good to be earning $11.23 an hour, even if the new job entailed cutting off necks and pulling out guts on a seemingly endless conveyor of carcasses."
How Big Companies Won New Tax Breaks From the Trump Administration
But big companies wanted more…The tax bills of many big companies have ended up even smaller than what was anticipated when the president signed the bill.
The article cites three beverage and food companies—Anheuser-Busch, Coca-Cola and Kraft Heinz—as among those participating in the lobbying blitz.
Such companies also "deployed elaborate techniques that let the companies pay taxes at far less than the 35 percent corporate tax rate."
Comment
Food politics is a full employment act.  We have plenty of work to do this year to create a healthier, more just, and more sustainable food system.