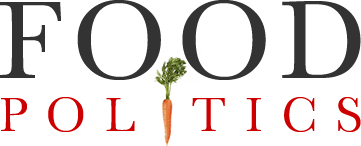 by Marion Nestle
The food politics of Coronavirus
Food politics connects to everything and Coronoavirus is no exception.  I've been collecting items.
For starters,  Coca-Cola gets its artificial sweeteners from China.  Oops.  Its supply chain is now disrupted.
Production and exports have been delayed for Coke's suppliers of sugar alternatives used in the company's diet and zero-sugar drinks, Coca-Cola disclosed Monday as part of its annual report.

"We have initiated contingency supply plans and do not foresee a short-term impact due to these delays…However, we may see tighter supplies of some of these ingredients in the longer term should production or export operations in China deteriorate."

The primary artificial sweeteners Coca-Cola (KO) uses in its products include aspartame, acesulfame potassium, sucralose, saccharin, cyclamate and steviol gylcosides.

In its annual report, Coca-Cola indicated that it considered sucralose a "critical raw material" sourced from suppliers in the US and China. Splenda, a sucralose product used in Diet Coke with Splenda, is made in the US and not sourced from China.
This worries you?  Join the hoarders.  Some people are trying to make sure they have a 14-day supply of food in case they get quarantined.  This situation has gotten so out of hand that stores are running out of food.
The FDA wants everyone to calm down.  It has a web page on what's happening with supply chains.  Most of this is about the supply of pharmaceuticals made in China, but here's what it says about food:
We are not aware of any reports at this time of human illnesses that suggest COVID-19 can be transmitted by food or food packaging. However, it is always important to follow good hygiene practices (i.e., wash hands and surfaces often, separate raw meat from other foods, cook to the right temperature, and refrigerate foods promptly) when handling or preparing foods.
It's hard to calm down if the situation affects you.  The organizers of Food Expo West, the natural products show scheduled for Anaheim, says COVID-19 fears could cut Expo West attendance by as much as 60% (the article links to official and unofficial lists of companies that have pulled out).
But every crisis has winners as well as losers.  The possible winners here?  Food delivery companies (as long as they can get supplies).
Stay tuned.
Update 3/3: Expo West has been postponed.