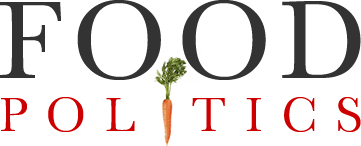 by Marion Nestle
Watch out for Coronavirus frauds and unproven promises
Frauds and fraudulent information are so prevalent that the FDA says what it's doing about them on its Coronavirus web page.
My email inbox is deluged with marketers claiming that their products boost immune systems in general, and protect against Coronavirus in particular.  Often, they cite evidence but this is highly selective and sometimes based on studies paid for by their sponsors.
The bottom line on keeping immune systems healthy?  Eat a healthful diet, don't gain excess weight, and get plenty of physical activity.  OK, good luck doing that while you are under lockdown, but you can give it a good try.
Here are some of the items that have ended up in my inbox.
Despite FDA pronouncements, industry coalition action, the coronavirus claims warning letters keep coming:  The US Food and Drug Administration has issued an additional six warning letters in recent days on coronavirus claims. The letters coincide with an industry coalition raising a red flag on the growing flood of such claims on dietary supplement-type products….Read more
Unproven COVID-19 health claims: China's crackdown on ads for oral sprays, probiotics and anti-hangover tea: The Chinese authorities have named and shamed a string of fake advertisement, mostly surrounding unproven COVID-19 health claims.
Consumers warned of sports nutrition products making coronavirus claims:  The European Specialist Sports Nutrition Alliance (ESSNA) has warned consumers of the increase in companies and individuals making unfounded claims in light of the current coronavirus situation….Read more
Cocoa and the coronavirus: can it boost the immune system?  Cacao beans have been consumed by humans for over 3,000 years and the ingredient is well-known for its wide range of health benefits, recent research suggests it can provide stronger protection against influenza virus infection…. Watch now [but watch critically.  If you even give this a moment's thought….]
CRN UK highlights why essential nutrients have never been more essential:  The ongoing threat of coronavirus could increase the potential for deficiencies in key micronutrients supporting the immune system, according to The Council for Responsible Nutrition UK (CRN UK). Read more  [How about eating a healthy diet and getting plenty of exercise?].
Could vitamin D play a role in coronavirus resistance? Research thinks so:  Vitamin D supplements may aid in the resistance of respiratory infections such as the coronavirus or limit the severity of the illness in those infected, according to researchers. Read more.  [And what kind of research are we talking about here?  Some of it is industry-funded, as this example demonstrates (thanks to Claudia Santos for sending)].