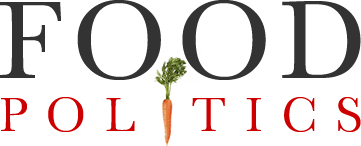 by Marion Nestle
Report questions value of online SNAP shopping
The USDA has a pilot program that permits most low-income families enrolled in SNAP (formerly food stamps) to use their benefits to buy groceries online.
This could be convenient and protect participants from Covid-19 exposure.
But food will be more expensive: SNAP does not cover delivery costs.
Only a few retailers at the moment can accept SNAP benefit payments: Amazon, Walmart, Fresh Direct, and Safeway/Albertson's.
This situation has induced the Center for Digital Democracy (CDD) to publish a research report that raises some serious questions.
According to the press release, the pilot program exposes SNAP participants
to a loss of their privacy through "increased data collection and surveillance," as well as risks involving "intrusive and manipulative online marketing techniques." The report reveals how online grocers and retailers use an orchestrated array of digital techniques—including granular data profiling, predictive analytics, geolocation tracking, personalized online coupons, AI and machine learning —to promote unhealthy products, trigger impulsive purchases, and increase overall spending at check-out….The increased reliance on these services for daily food and other household purchases could expose these consumers to extensive data collection, as well as unfair and predatory techniques, exacerbating existing disparities in racial and health equity."
On the basis of this report, several advocacy groups jointly wrote the USDA Secretary to make sure that these retailers do not unfairly target or take advantage of SNAP participants.
Our request is based on a new study by the Center for Digital Democracy (CDD), which finds that leading online grocery and e-commerce companies…are engaged in extensive data profiling, and deploying geolocation tracking, artificial intelligence, machine learning, and behavioral science techniques to track and target consumers, promote unhealthy products, and trigger impulsive purchases. Most of these operations are largely invisible, and CDD's analysis of the companies' privacy policies reveals that they fail to protect consumers from these data collection, targeting, and predatory marketing practices.
The letter has several "asks," among them:
Forbid the use of techniques that take advantage of consumers' psychological vulnerabilities, or employ manipulative practices designed to foster impulsive behavior.
Require participating retailers to prioritize healthier products in their ecommerce and online promotion efforts, discounts, and coupons.
Facilitate the participation of smaller, independent retailers, farmers markets and other local produce suppliers.
These groups also plan to ask Congress to conduct oversight hearings.
It's terrific that these groups are keeping an eye on this program.
I'm curious to see the percentage of SNAP participants who use the program and are willing to pay the higher delivery costs.
I imagine that the big retailers are for it.  As was documented in Michele Simon's 2012 report—Food Stamps: Follow the Money—for some time, retailers are SNAP's greatest beneficiaries.