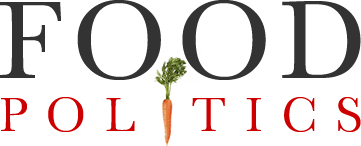 by Marion Nestle
What's in those USDA boxes?
RC Rybnikar sends these photos (thanks!) of examples from USDA's Farmers to Families program.  The label.
What's inside:
Looks good to me.
And now the USDA is expanding its list of commodities in the Coronavirus Food Assistance Program (CFAP).
Additional details:
Here's what's been added:
alfalfa sprouts, anise, arugula, basil, bean sprouts, beets, blackberries, Brussels sprouts, celeriac (celery root), chives, cilantro, coconuts, collard greens, dandelion greens, greens (others not listed separately), guava, kale greens, lettuce – including Boston, green leaf, Lolla Rossa, oak leaf green, oak leaf red and red leaf – marjoram, mint, mustard, okra, oregano, parsnips, passion fruit, peas (green), pineapple, pistachios, radicchio, rosemary, sage, savory, sorrel, fresh sugarcane, Swiss chard, thyme and turnip top greens.
Here's what's been expanded: apples, blueberries, garlic, potatoes, raspberries, tangerines and taro (Why?  Because USDA found these commodities had a 5 percent or greater price decline between mid-January and mid-April as a result of the COVID-19 pandemic).
Let's hope this helps small- and medium-size producers of these foods, and the foods get to people who need them.