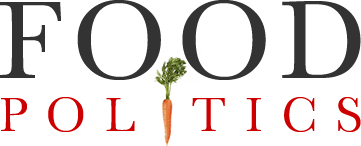 by Marion Nestle
The latest on USDA's food boxes: they now come with a personal note from Trump
I learned about this latest development in the ongoing sage of USDA's food boxes from Maine Representative Chellie Pingree on Twitter.
The letter from members of Congress to USDA is here.
It has a list of ten questions, among them my two favorites:
5. Identify the total amount of funding expended or obligated to plan, coordinate, draft, review, provide stakeholder or public notification, and disseminate the President's letter. Include the specific regulatory or statutory authorities associated with such funding.

7. Explain the rationale for why the letter is signed by the President on White House letterhead rather than by the Secretary of Agriculture and/or the Secretary of Health and Human Services.
Politico Morning Agriculture asks ("A new front in the food box fracas," August 17):
So what's the upshot? Besides heightened scrutiny of the ongoing effort, the new controversy could further motivate key lawmakers who are pushing to tighten restrictions on how the department spends any future farm relief funds — assuming Congress and the White House ever agree on a new stimulus package…