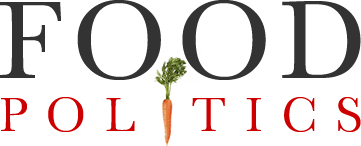 by Marion Nestle
New report: Big Food vs. Public Health During the Pandemic
Here's a new must-read report:
This is a thorough and carefully done analysis of the ways in which Big Food companies took advantage of the Covid-19 pandemic as a marketing opportunity.  The report gives more than 40 specific examples of corporate:
● Nutri-washing: Coupling "solidarity actions" with aggressive marketing of junk food and sugary drink brands, which helped polish corporate images
● Positioning ultra-processed food and drinks as "essential products" when they are not healthy foods
● Playing both sides: Carrying out philanthropic actions while actively lobbying against healthy food policies
● Using charity to push junk food: Donating ultra-processed food and drinks to vulnerable populations
Here's just one example:
The report is short and beautifully designed.  It comes from the Global Health Advocacy Incubator.  This group produces tools for advocacy, among other useful items.
As Bettina Siegel wrote earlier this year.
America's poor diet is the leading cause of poor health and is responsible for more than half a million deaths per year. And if our current comfort food bender demonstrates anything, it's that when people's sense of security is fundamentally threatened, they're very often compelled to seek relief and pleasure in unhealthy food.
The report shows how food companies take advantage of our current vulnerabilities.  That's another reason why the UK's stop-marketing proposal (I wrote about it yesterday) is so badly needed.