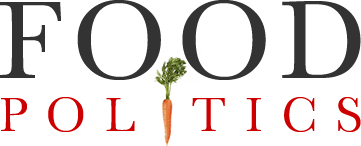 by Marion Nestle
FDA issues warnings to leafy green growers and their cattle raising neighbors
Leafy greens contaminated with toxic E. coli make eaters very sick (this is an understatement).
Toxic E. coli are excreted by cattle raised in the vicinity of lettuce and spinach fields.
But leafy green safety is overseen by FDA whereas everything having to do with food animals is overseen by USDA.
This is why the latest moves by FDA about leafy green safety are so noteworthy.
The FDA is warning leafy green growers that they must take better precautions to prevent E. coli contamination.
It also is warning cattle growers that they must prevent wastes from contaminating leafy green fields.
The Big Question: Will—can—the FDA force cattle ranchers and leafy green growers to adhere to food safety precautionary measures?
Let's hope.
Here are the relevant documents:
FDA statement on release of a report on a 2020 outbreak
The findings of foodborne illness outbreak investigations since 2013 suggest that a likely contributing factor for contamination of leafy greens has been the proximity of cattle. Cattle have been repeatedly demonstrated to be a persistent source of pathogenic E. coli, including E. coli O157:H7.

Considering this, we recommend that all growers be aware of and consider adjacent land use practices, especially as it relates to the presence of livestock, and the interface between farmland, rangeland and other agricultural areas, and conduct appropriate risk assessments and implement risk mitigation strategies, where appropriate.
Report on the 2020 outbreak investigation
The analysis has confirmed a positive match to the outbreak strain in a sample of cattle feces, which was collected during follow-up investigations on a roadside, uphill from where leafy greens or other food identified in the traceback investigation were grown. While the finding does not provide definitive information on how E. coli may have contaminated product during the growing and harvesting season, it does confirm the presence of a strain of E. coli O157:H7 that causes recurring outbreaks in a more narrowly defined growing region and a potential, continued source of contamination.
As outbreaks have continued to occur, despite significant efforts in recent years, greater emphasis will be needed around such complex issues as adjacent land use, agricultural water, and understanding likely routes by which human pathogens may contaminate leafy greens.
Former FDA food safety official Michael Taylor's comment on these documents
FDA declared the recurring strain implicated in the 2020 outbreak to be a "reasonably foreseeable hazard," which FDA attributed to the presence of cattle on land adjacent to growing fields.  This finding seems obvious and shouldn't be surprising. The surprise, however, is that FDA used regulatory language to express its finding and spelled out the implications: farms covered by the FSMA produce safety rule "are required to implement science and risk-based preventive measures" to minimize the risk of serious illness or death from the E. coli hazard…I do not anticipate FDA taking judicial action to enforce its April 6 finding, absent egregious practices or clear negligence in a particular leafy green growing situation. I do see, however, a heightened sense of urgency at FDA and frustration that efforts to date have not solved the leafy greens safety problem. I share that frustration.    
Food safety lawyer Bill Marler's comment
The FDA took specific aim at California growers as the cause of repeated and ongoing outbreaks, putting the responsibility of combating the outbreaks squarely on the growers.
FDA's investigations into foodborne illness outbreaks are available from its outbreak page.  These are the ones from 2020.