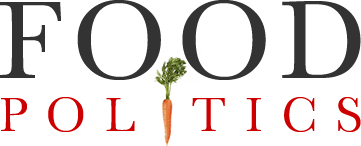 by Marion Nestle
Good COVID news: it's not transmitted by food or packaging
I am indebted to Food Safety News for this item: FAO (Food and Agriculture Organization of the UN) has issued a statement:  COVID-19 is not a food safety issue (see my previous posts on this).
Food does not spread the virus.
Food packaging does not spread the virus.
Highlights of the FAO's conclusions:
Coronaviruses cannot multiply in food or on inanimate surfaces; they can only multiply in humans and certain animals. Once in the environment, viruses degrade and becomes less infectious.
It is important to note that, although the detection of virus or viral ribonucleic acid (RNA) remnants on foods and food packaging provides evidence of previous contamination and is not disputed, there is no confirmation of SARS-CoV-2, or any other respiratory illness-causing virus, being transmitted by food or food packaging and causing illnesses in people who touch the contaminated food products or packaging.
The virus responsible for COVID-19 is susceptible to most commonly used disinfectants and sanitizing agents used in the food processing environment. Standard cleaning and sanitizing procedures…should therefore be effective at disinfecting the food processing environment.
Well, at least that, and what a relief.
That still leaves us with these preventive measures: vaccinate, mask up, and avoid unmasked crowds.