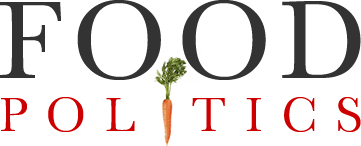 by Marion Nestle
Feed the Truth on Corporate Transparency (or the lack, thereof)
Feed the Truth (FTT), an organization I've discussed previously and whose mission is to work "at the intersection of equity, democracy, and food justice to stop corporate control over the food we eat," has just come out with the results of its new research on Big Food's lack of transparency in political giving.
FTT attempted to discover the political spending levels of the ten largest food and agriculture corporations: ADM, Bunge, Cargill, Coca-Cola Company, JBS, Mars, Nestle, PepsiCo, Inc., Tyson Foods and Unilever.
FTT's unsurprising conclusion: "despite the massive influence these corporations have on our health, economy, and the environment, there is very little publicly-available information about how they manipulate the political system to their advantage."
This led FTT to develop The Food and Agriculture Corporate Transparency (FACT) Index.  This ranks the transparency of the corporations on a scale of zero to 100 on readily available disclosure of their spending on electioneering, lobbying, science, and charity.
Among the key findings:
Overall transparency scores:
Total: 2 (Bunge, Tyson) to 39 (Coca-Cola)
Electioneering: 0 (Bunge) to 20 (Mars).
Lobbying: 0 (Bunge, Tyson) to 9 (Coca-Cola)
Charity: 0 (Unilever, ADM) to 8 (Coca-Cola)
Science: 0 (PepsiCo, Mars, Unilever, JBS, Bunge) to 8 (Nestlé)
Coca-Cola ranks highest in part because of the transparency initiative it started in response to the furor over disclosure of its role in the Global Energy Balance Network.
I could have told FTT how hard it is to get information about food industry funding of science as well as all the other ways it uses funding to influence attitudes and policy.  I had my own version of these difficulties doing the research for Unsavory Truth: How Food Companies Skew the Science of What We Eat.
It's great that FTT is bringing this problem up to date, and identifying what needs to be done about it.