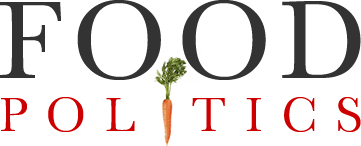 by Marion Nestle
The Dietary Guidelines as a marketing opportunity
You might think of the Dietary Guidelines for Americans as federal nutrition advice about how to eat healthfully but to some food companies it's a marketing opportunity.
FoodNavigator-USA.com writes that the new guidelines for children under age 2 are a "treasure map" for Gerber, a leading baby food manufacturer.
the guidelines underscore the need for products that help babies consume sufficient iron, vitamin D and other nutrients of concern, safely introduce potential allergens, cut back on added-sugar, and cultivate diverse palate preferences to ensure healthy dietary preferences and reduce the risk of picky eaters later.\nInnovative, iron-enriched products need to boost consumption.
How does this work?
One of the main messages in the Dietary Guidelines is to provide infants and young children with sufficient iron.
Gerber to the rescue!
All you have to do is "feed children two servings of infant cereal a day."
I still vote for feeding kids real food….