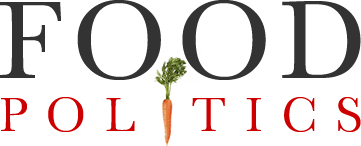 by Marion Nestle
FDA proposes to decide what foods are "healthy"
The FDA has announced a proposed rule for a "healthy" claim on food packages.
It proposes to align "healthy" with the Dietary Guidelines for Americans, 2020-2025 and the Nutrition Facts label.
The proposal has two requirements for the "healthy" claim.  To make the claim, products must:
"Contain a certain meaningful amount of food from at least one of the food groups or subgroups (e.g., fruit, vegetable, dairy, etc.) recommended by the Dietary Guidelines."
"Adhere to specific limits for certain nutrients, such as saturated fat, sodium and added sugars. The threshold for the limits is based on a percent of the Daily Value (DV) for the nutrient and varies depending on the food and food group. The limit for sodium is 10% of the DV per serving (230 milligrams per serving).?
Food comes first!  What a concept!  The FDA will only allow a "healthy" claim on foods, not ingredients.  It also will only allow the claim on foods that are quite low in saturated fat, salt, and sugars (with exceptions for real foods).
The press release gave an example.  To qualify,
A cereal would need to contain ¾ ounces of whole grains and contain no more than 1 gram of saturated fat, 230 milligrams of sodium and 2.5 grams of added sugars.
The FDA is also researching a symbol to illustrate the "healthy" claim.  In March, it proposed research to develop this symbol.  The proposal did not illustrate prototypes, but some examples were published by a law firm.  ConscienHealth also published them under the heading of "A new roadmap for marketing healthy-ish food"
I see several things going on here.
 Positive, not negative.  This says foods are healthy.  Choose this!
 It adds sugars to disqualifying ingredients.
 It heads off warning labels—"high in fat, sugar, salt"—like those in Chile, Brazil, and Israel (see, for example, a previous post).  Avoid those!
 It heads off ultra-processed warnings (although this will exclude most, if not all, ultra-processed products).
 It supersedes the FDA's efforts in 2010 and 2011 to put zero, one, two, or three stars or check marks on products.
I love Ted Kyle's "Healthy-ish."  As I keep saying, health claims are not about health; they are about marketing.
Companies love health claims; they sell food products.  Everyone falls for them; it takes serious critical thinking to resist them.
The FDA's proposal will make "healthy" claims difficult for many products currently marketed with a health aura (Antioxidants! Gluten-free! No carrageenan!).
The time for comments is now.  I can't wait to see the ones from companies making ultra-processed foods.
Next from FDA: a definition of "Natural?"
************
For 30% off, go to www.ucpress.edu/9780520384156.  Use code 21W2240 at checkout.