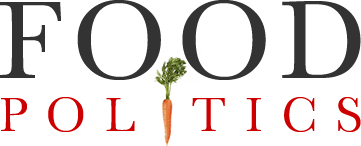 by Marion Nestle
Weekend Reading: Ultraprocessed People!
This absolutely superb—informative, eminently readable, compelling—book makes the strongest possible case for the benefits of not eating ultra-processed foods.
These, you may recall, are produced by industrial means, loaded with unfamiliar and questionable food additives, unable to be made in home kitchens, and designed deliberately to be irresistibly delicious, if not addictive, so as to make profits for food companies.
They also encourage people to eat more than they realize, and are consistently associated with poor health.
Van Tulleken is a British physician, scientist, and television star with his twin brother Xand.
Although I am thoroughly familiar with just about everything in this book having written extensively about these topics myself, I still found it to be a great read.
Van Tulleken tells stories really well.  I was hooked on page 30 with the description of Lyra, his 3-year-old daughter's first encounter with a breakfast cereal aimed at kids.  He had decided to do a Morgan Spurlock  (Super Size Me!) experiment on himself and eat mainly ultra-processed foods for as long as he could stand it.  He began with a breakfast of Coco Pops cereal.
I had assumed that, having never tried Coco Pops, she [Lyra] wouldn't have any interest in them.  But Kellogg's had got her hooked before she'd had a mouthful.  She knew that here was a product designed with a three-year-old in mind.  Again, I told her no, so she collapsed on the floor crying and screaming with rage…My lingering doubts [about this cereal] were irrelevant ….Lyra had crawled out from under the table, filled her bowl and started to eat great fistfuls of dry Coco Pops, wide-eyed and ecstatic.  Defeated, I poured out the milk, and read the ingredients…Lyra put her ear to the bowl and shut her eyes, entranced. She then began to eat again.

And eat.  And eat.  As I watched her, it seemed she wasn't fully in control…Lyra had hardly taken a breath.  I normally have to do a little cajoling at mealtimes, but the first bowl of Coco Pops had simply disappeared.  When I tried to suggest that one bowl was enough, the idea was immediately dismissed.  It felt like advising a smoker to stick to one cigarette.  Her eating wasn't just mindless: it was trancelike.
This is just what ultra-processed foods are supposed to do.
Van Tulleken calls for government policies to be made without food company involvement, and for policies to restrict the marketing of such foods.
Yes!
The book is published today by Norton. I thought it was a great read.