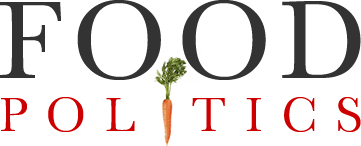 by Marion Nestle
Food agencies at work (or not): USDA
USDA is the agency supposedly responsible for the safety of meat and poultry.  Unlike FDA, which is responsible for the safety of just about all other foods, USDA gets to impose HACCP (science-based food safety regulations) on meat and poultry.  It just doesn't bother to enforce its own rules.  Hence recent events:
Consumer Reports, which for decades has been testing supermarket chickens for microbial contaminants, has just  tested chickens again. Sigh. Two-thirds were contaminated with Salmonella or Campylobacter. You will be relieved to know that this is an improvement. It was 80% the last time Consumer Reports did the testing.
In an effort to get USDA and the poultry industry moving on this problem, Senator Dianne Feinstein (Dem-CA) has introduced a bill to prohibit the sale of meat that has not been certified free of pathogens. Based on what's been happening with meat safety, I'm betting it won't get far.
So let's talk about meat safety.  For this, we should all be reading USA Today, which seems to be one of the last newspapers in America still funding investigative reporting.  Its latest blockbuster is an account of the 826,000-pound recall by Beef Packers, Inc. (a subsidiary of Cargill) a few months ago. The meat made at least 28 people ill as a result of infections with a strain of Salmonella Newport highly resistant to antibiotics.
That's bad enough, but it gets worse.  Beef Packers is a major supplier of meat to the USDA's school lunch program. But oops.  The recall covered meat sent to retailers.  It did not cover meat sent to schools. According to the intrepid reporters at USA Today, USDA bought 450,000 pounds of ground beef produced by Beef Packers during the dates covered by the recall.
USDA should have known better.  Beef Packers had a history of positive Salmonella tests but the USDA did not disclose that information. An official told USA Today that doing so
would discourage companies from contracting to supply product for the National School Lunch Program and hamper our ability to provide the safe and nutritious foods to American school children.
You can't make these things up.  USA Today provides the documents on its site to prove it.
I missed the earlier article in the USA Today series about school lunches in general and Del Rey Tortillas in particular, a company implicated in 20 cases of school food poisonings since 2003. Check out the article's quick facts-and-figures about school lunches, the nifty interactive timeline for the Del Rey episodes, and the raft of documents in this case.
Good work, reporters. If you want to know why we need newspapers, here's a good reason.
As for USDA: the new administration at the agency shows many signs of wanting to do the right thing about food safety but they have to deal with entrenched staff and inspectors who have been cozy with industry far too long.  USDA: deal with it!
Coming soon: updates on FDA and FTC.