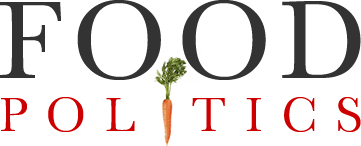 by Marion Nestle
Michelle Obama to Grocery Manufacturers: Let's Move!
The First Lady spoke to the Grocery Manufacturers Association (GMA) yesterday about her campaign to prevent childhood obesity.  According to one witness, Marian Burros, she scolded them – politely and with humor – but told them in no uncertain terms "to stop fattening our children."
The GMA is a tough audience for messages about childhood obesity.  It represents the makers of processed foods and beverages who have much to lose from efforts to get kids to eat less of their products.
The speech itself is a masterpiece of tact, but Mrs. Obama clearly gets the issues loud and clear.  Here are some excerpts:
we need you not just to tweak around the edges, but to entirely rethink the products that you're offering, the information that you provide about these products, and how you market those products to our children.
this needs to be a serious industry-wide commitment to providing the healthier foods parents are looking for at prices they can afford.
what it doesn't mean is taking out one problematic ingredient, only to replace it with another. While decreasing fat is certainly a good thing, replacing it with sugar and salt isn't.
it doesn't mean compensating for high amounts of problematic ingredients with small amounts of beneficial ones — for example, adding a little bit of Vitamin C to a product with lots of sugar, or a gram of fiber to a product with tons of fat doesn't suddenly make those products good for our kids.
This isn't about finding creative ways to market products as healthy.
Parents are working hard to provide a healthy diet and to teach healthy habits — and we'd like to know that our efforts won't be undermined every time our children turn on the TV or see a flashy display in a store.
what does it mean when so many parents are finding that their best efforts are undermined by an avalanche of advertisements aimed at their kids?
what are these ads teaching kids about food and nutrition? That it's good to have salty, sugary food and snacks every day — breakfast, lunch, and dinner? That dessert is an everyday food? That it's okay to eat unhealthy foods because they're endorsed by the cartoon characters our children love and the celebrities our teenagers look up to?
if there is anyone here who can sell food to our kids, it's you. You know what gets their attention. You know what makes that lasting impression. You know what gets them to drive their parents crazy in the grocery store.
Well done, Mrs. O.
Apparently, GMA members applauded her speech.  Let's hope they act on it.
(Actually, they claim they are already fixing these problems.  More on that tomorrow).