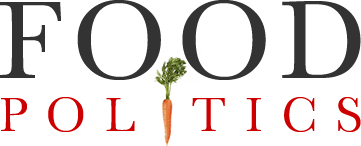 by Marion Nestle
Eating Liberally: The Child Nutrition Act
I keep getting asked what I think about the Child Nutrition Act wending its way through Congress.  Kerry Trueman of Eating Liberally posed this as a Q and A:
Let's Ask Marion: Does The USDA Stand for Ultra Silly Dietary Agenda?
(With a click of her mouse, EatingLiberally's kat corners Dr. Marion Nestle, NYU professor of nutrition and author of Pet Food Politics, What to Eat and Food Politics🙂
KT: Monday's New York Times had an editorial supporting the reauthorization of the Child Nutrition Act, a bill that would give the US Agriculture Department "new powers to set nutritional standards for any food sold on school grounds, particularly junk foods that contribute to obesity."
The current standards leave a lot to be desired, as Jamie Oliver's Food Revolution has revealed. In the first episode, Jamie stood accused of shortchanging the kids on carbohydrates because he omitted the bread from a meal that already included rice.
Last Friday, in episode three, Jamie found himself charged with the violation of "insufficient vegetables," despite the fact that his noodle-based entree featured seven different vegetables. The remedy? Add a bunch of french fries to the meal to meet the veggie quota.
How did the USDA's school lunch standards ever get so nutritionally nutty? Would passage of the CNA support the wholesome, made-from-scratch meals that Jamie Oliver's trying to bring back to our cafeterias?
Dr. Nestle: You are asking about the history of the USDA's school lunch program? Nothing could be more complicated or arcane. Fortunately, two new books take this on: Susan Levine's School Lunch Politics: The Surprising History of America's Favorite Welfare Program (Princeton, 2010), and Janet Poppendieck's Free for All: Fixing School Food in America (California, 2010).
I used Poppendieck's book in my Food Ethics class at NYU this semester and reading it while watching Jamie Oliver's programs was a lot of fun. Yes, Oliver is doing reality television but no, he's not exaggerating. If you find this difficult to believe, read Poppendieck's book or take a quick look at Kate Adamick's review of Oliver's Food Revolution on the Atlantic Food Channel.
As Levine and Poppendieck explain, and as I discussed in Food Politics (California, 2007), school lunches started out as a way to dispose of surplus agricultural commodities by feeding hungry kids. Over the years, it got caught up in a series of "wars"–first on poverty, hunger, and malnutrition and later on welfare and obesity.
The politics of school lunch, and of the CNA in particular, have always reflected the tension inherent in any welfare program, in this case feeding the poor vs. inducing dependency and overspending. In recent years, as obesity became much more of a public health problem than malnutrition, the politics came to reflect the tensions between commercial interests and those of nutrition reformers. Congress is always involved as it endlessly tinkers with the rules for "competitive foods"–the sodas and snacks sold in competition with federally supported school meals.
Competitive foods put schools in a dilemma and in conflict of interest. They make money from competitive foods to help support the school lunch program. But sodas and snacks undermine participation in school meals programs.
Poppendieck points out that the result is a mess that leaves financially strapped school districts with few choices. It's not that the "lunch ladies" (you have to love Jamie Oliver's term) don't know how to make decent meals. It's that they are up against inadequate funding and equipment, and impossible nutrition standards that can be met most easily by commercial products like Uncrustables that are designed to meet USDA standards. My favorite example contains 51 ingredients (my rule is "no more than five").  See Note below.
Inadequate funding is a big consideration in the Child Nutrition Act. This act provides $4.5 billion over 10 years for school meals. Although this represents a 10-fold increase over previous (2004) funding, it works out to an additional measly six cents per meal–not nearly enough to solve school districts' financial problems.
But–and this is a huge step forward–the act gives USDA the authority to set nutrition standards not only for foods sold in the cafeteria but also in vending machines and a la carte lines.
And the bill does a few other Very Good Things. It provides:
An estimated $1.2 billion over 10 years for meals at after-school programs, free meals to all students in schools with high poverty levels, and increased availability of meals during summer months.
An estimated $3.2 billion for establishing nutrition standards, strengthening local wellness policies, and increasing reimbursement rates.
Mandatory funding for schools to establish school gardens and buy foods from local sources.
Increased training for local food service personnel.
Automatic enrollment of foster children for free school meals.
As for the pesky nutrition standards: the bill expects the USDA to revise them according to the recent report of the Institute of Medicine (IOM), School Meals: Building Blocks for Health Children. This report recommended a conversion to food-based, rather than nutrient-based, standards along with increases in the amount and variety of fruits, vegetables, and whole grains and limits on calories, saturated fat, and sodium.
All of this makes the CNA well worth supporting. Is it perfect? Of course not. But it is a good first step to making big improvements eventually. In the meantime, plenty of schools are already doing great work and more are joining the food revolution one meal at a time. These deserve all the help we can give them.
*NOTE: the label of this particular Uncrustable was sent to me by Daniel of Ithaca, who works in an upstate New York school district:
BREAD; ENRICHED UNBLEACHED FLOUR (WHEAT FLOUR, MALTED BARLEY FLOUR, NIACIN, REDUCED IRON, THIAMIN MONONITRATE, RIBOFLAVIN, FOLIC ACID), WATER, HIGH FRUCTOSE CORN SYRUP, YEAST, PARTIALLY HYDROGENATED SOYBEAN OIL AND/OR SOYBEAN OIL, CONTAINS 2% OR LESS OF: WHEAT GLUTEN, SALT, DOUGH CONDITIONERS (MAY CONTAIN ONE OR MORE OF: DIACETYL TARTARIC ACID ESTERS OF MONO AND DIGLYCERIDES [DATEM], MONO AND DIGLYCERIDES, ETHOXYLATED MONO AND DIGLYCERIDES, SODIUM STEAROYL LACTYLATE, CALCIUM PEROXIDE, ASCORBIC ACID, AZODICARBONAMIDE, L-CYSTEINE), YEAST NUTRIENTS (MAY CONTAIN ONE OR MORE OF: MONOCALCIUM PHOSPHATE, CALCIUM SULFATE, AMMONIUM SULFATE), CALCIUM PROPIONATE (MAINTAIN FRESHNESS), CORNSTARCH, ENZYMES (WITH WHEAT). PASTEURIZED PROCESS CHEESE SPREAD: CULTURED MILK AND SKIM MILK, WATER, WHEY (FROM MILK), SODIUM PHOSPHATE, SALT, CREAM (FROM MILK), CORN SYRUP, LACTIC ACID, SORBIC ACID (PRESERVATIVE), GUAR GUM, ARTIFICIAL COLOR, ENZYMES. BUTTER FLAVORED OIL: PARTIALLY HYDROGENATED SOYBEAN OIL, SALT, SOY LECITHIN, NATURAL AND ARTIFICAL FLAVORS (WITH MILK), VITAMIN A PALMITATE, BETA CAROTENE ADDED FOR COLOR.