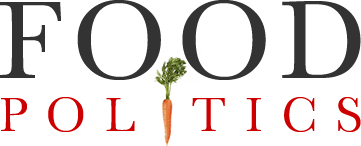 by Marion Nestle
Mead-Johnson withdraws Chocolate toddler formula: Meaningful or just PR?
Mead Johnson announced yesterday that it was withdrawing its Enfagrow Chocolate Toddler Formula–just the Chocolate version–from the market:
Like all our Enfagrow Premium products, the recently introduced chocolate-flavored version has a superior nutritional profile to many other beverages typically consumed by toddlers — including apple juice, grape juice, and similarly flavored dairy drinks. Unfortunately, there has been some misunderstanding and mischaracterization regarding the intended consumer for this product and the proper role it can play in a child's balanced diet. The resulting debate has distracted attention from the overall benefits of the brand, so we have decided to discontinue production of Enfagrow Premium chocolate toddler drink and phase it out over the coming weeks.
I can't resist quoting the Chicago Tribune's explanation of the origin of the debate caused by "misunderstanding and mischaracterization:"
Introduced in February, the chocolate-flavored formula was widely criticized in the blogosphere after Marion Nestle, professor of nutrition, food studies and public health at New York University, wrote that the drink would lead children to crave sugary beverages on her influential blog, www.foodpolitics.com.
Influential?  Maybe, but it seems that my comments on this formula did not go nearly far enough.  Mead-Johnson may be withdrawing the Chocolate version, but it is keeping the Vanilla (as explained by Susan James on ABCNews.com, which also quotes me).
What's the difference?  The Vanilla has exactly one gram less sugar than the Chocolate, 18 grams per 6-ounce serving, rather than 19 grams.  In contrast, the milk in my refrigerator has 9 grams of sugar (natural, not added) in 6 ounces.
Clearly, Mead-Johnson doesn't get that it's the sugars, stupid.
Why do I think this is a PR stunt?  Three reasons:
The Vanilla doubles the sugars in regular milk.
The Vanilla has the same health claims as the Chocolate: growth, brain development, and immunity.
Mead-Johnson's stock went up after the announcement.
One more time: Where are the FDA and FTC on this product?  This Immunity claim is no different from the one on Kellogg's Krispies cereals that the FTC went after a couple of days ago.
Tomorrow: Some speculation on why the FDA is reluctant to take on things like this.
Addition, June 11: Here is Melanie Warner's take on this on her BNet Food Industry blog site (she quotes my post).