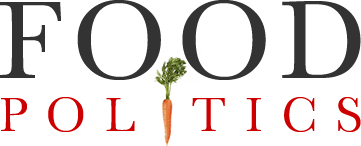 by Marion Nestle
Why partnerships with food companies don't work
Michael Siegel, MD, MPH, a Professor at the Boston University School of Public Health (whom I do not know), has been mailing me copies of his recent blog posts on partnerships between food corporations and health organizations, particularly the American Academy of Pediatrics (AAP), the American Academy of Family Physicians (AAFP) (see my previous posts), and the American Dietetic Association (ADA) (see my previous posts on this one too).
Dr. Siegel's current post discusses two reasons why these partnerships do more for the food companies than they do for the organizations:
1. Coca-Cola and other Big Food companies are using these partnerships to enhance their corporate image, and therefore, their bottom line: sales of unhealthy products that are contributing towards the nation's obesity epidemic.

In its 2010 annual report, Coca-Cola writes: "…researchers, health advocates and dietary guidelines are encouraging consumers to reduce consumption of sugar-sweetened beverages, including those sweetened with HFCS or other nutritive sweeteners. Increasing public concern about these issues…may reduce demand for our beverages, which could affect our profitability."

…Pepsico, in its 2010 annual report, also makes clear the connection between the company's public image and its bottom line: "Damage to our reputation or loss of consumer confidence in our products for any of these or other reasons could result in decreased demand for our products and could have a material adverse effect on our business, financial condition and results of operations, as well as require additional resources to rebuild our reputation."

2. The American Dietetic Association, American Academy of Pediatrics, and American Academy of Family Physicians are supporting companies that oppose virtually every state-specific public health policy related to improvement of school nutrition, reduction of junk food and soda consumption, and environmental health and safety.

…Through its contributions to the Grocers Manufacturers Association (GMA), Coca-Cola is opposing any and all taxes on sugar-sweetened beverages (soft drinks), opposing the removal of BPA from bottles containing liquids consumed by infants, opposing legislation to simply require the disclosure of product ingredients, opposing taxes on candy, opposing bottle bills, opposing all restrictions on BPA-containing packaging, opposing standards for food processing, and opposing school nutrition standards.

…That the AAP, AAFP, and ADA have fallen for Coca-Cola's tricks is one possibility. The other, which I find more likely, is that they have been bought off. In other words, that the receipt of large amounts of money has caused them to look the other way. It's amazing what a little financial support will do. And of course, this is precisely the reason why companies like Coca-Cola and Pepsico include the sponsorship of public health organizations in their marketing plans.
I'm just back from the American Society of Nutrition meetings in Washington, DC, where the daily newsletter put out by the society included full-page advertisements from Coca-Cola, the beef industry, and the Corn Refiners Association (see yesterday's post).  And then there is the astonishing example of Coca-Cola's $10 million gift to Children's Hospital of Philadelphia to head off a potential city soda tax.
It is completely understandable why food and beverage companies would want to buy silence from health professionals.  It is much less understandable why health organizations would risk their credibility to accept such funding.  Professor Siegel's analyses of these issues are worth close attention.