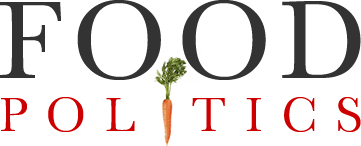 by Marion Nestle
Sugary drinks vs. obesity: power politics in action
It used to be that the "soda wars" referred to Coke vs. Pepsi.  No more.  Today's soda wars are fought on the health front, as more and more evidence links sugary drinks to obesity and other health problems.
The current issue of the New Yorker has an article by John Seabrook (in which I am briefly quoted) about Pepsi's attempt to "health up" its snacks and drinks.
Seabrook's article, "Snacks for a fat planet," describes the extraordinary amount of money and effort Pepsi is spending to try to tweak its products to make them seem healthier.  His article doesn't exactly give Pepsi a pass (as some of my readers have complained), but it does not really come to grips with how sugary drinks and snacks affect health or how Pepsi is marketing its products in developing countries.
That, no doubt, is why Pepsi has sent out a press release to reports that enclosed the complete article and suggested that reporters might be "interested in the company's focus on its innovative approach to:"
Reduce salt, fat and sugar across the portfolio – the New Yorker feature explains PepsiCo's effort to re-shape natural salt so that it has more surface area, and, in turn, is perceived as "saltier" on the tongue – meaning they can maintain all the salty flavor in Lay's but reduce overall sodium content
Scale more drinks and snacks made with whole grains, fruit, vegetables and dairy to new markets – e.g. bringing vegetable-based gazpacho (perhaps with an edible whole grain spoon) to the U.S.
Test new ingredients brought back from "treks" around the world – e.g. using a state-of-the-art robot in PepsiCo's new Hawthorne, NY research lab to test botanicals and other natural ingredients from near and far – e.g. even secluded villages in the far East – to determine their impact on taste and viability for use in PepsiCo snacks and drinks (Do they intensify sweetness? Can they be a substitute for sugar? Do they have a particular healthful function?)
Score this one as a win for Pepsi.
Along with such pledges, Pepsi is aggressively marketing sodas to teenagers.  The San Francisco Chronicle reports on Pepsi's new "social marketing" vending machines.
At a trade show in Chicago this week, PepsiCo rolled out a prototype interactive soda machine that lets you send a drink as a gift to a friend or a random stranger.

"Our vision is to use innovative technology to empower consumers and create new ways for them to engage with our brands, their social networks and each other at the point of purchase," Mikel Durham, PepsiCo Foodservice's chief innovation officer, said in a press release.

"Social Vending extends our consumers' social networks beyond the confines of their own devices and transforms a static, transaction-oriented experience into something fun and exciting they'll want to return to, again and again."
But these kinds of marketing pushes are not confined to Pepsi.   Advertising Age reports that Joe Tripodi, Coke's chief marketing officer of Coca-Cola explains the company's growth strategy: focus on teenagers:
The company sees huge opportunities to grow colas, and the business as a whole, around the world in the next decade. Teen recruitment will be particularly important, as the company follows demographic trends.

"There was a time [a decade ago] when we walked away from teen recruitment and probably lost a generation of drinkers," Mr. Tripodi said. "Parts of the world lost confidence in cola as the engine of growth. We've gotten that back in a big way. …When you look at the massive opportunity in so many huge countries in the world, that's what energizes us and why we believe cola is still at its very early stages."
And then there are partnership strategies. The latest is Sonic drive-ins' campaign for Limeades for Learning. The campaign encourages eaters to vote for school projects like those that support physical activity.  Sonic promises to fund the projects with the most votes. The Limeades, by the way, are 620 calories (for a medium) or 950 calories (for a large).
Finally, for now, the Boston Globe reports that most Massachusetts voters support a sales tax on sodas if the money is used for some useful purpose.  But:
The American Beverage Association has been aggressively fighting taxes on soda, as cities and states across the country look for new tools to counter an obesity epidemic and raise revenue amid squeezed budgets. It has spent millions fighting initiatives that impose product-specific excise taxes on sugar-sweetened beverages and has been successful in nearly every attempt.
Expect more such public relations efforts superimposed on fundamental marketing techniques aimed at kids and fighting back on taxes and other attempts to limit soda intake.
How does this comport with the spanking new advertising guidelines to children or any of the previous pledges? Is sending a soda to a friend an activity or marketing? Or both?
http://www.sfgate.com/cgi-bin/blogs/techchron/detail?entry_id=87904