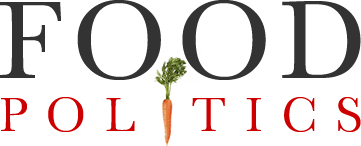 by Marion Nestle
Last chance to comment on proposed kids' food marketing standards
Today is the last day to comment on the federal Interagency Working Group's (IWG) proposed nutrition standards for marketing food products to kids.  The IWG is a joint project of four federal agencies with at least some responsibility for public health: FTC, FDA, USDA, and CDC.
As I discussed back in April, I thought the IWG standards were generous and gave food companies plenty of room to market junk foods with impunity.  Maybe, but that's not how food companies see it.  They think it will cause so much havoc with their marketing that they are fighting back, big time.
Large food companies joined together to create the "Sensible Food Policy Coalition."  This entity paid for an economic assessment.  On July 8, the Coalition released Global Insight's report of this assessment—a call to arms arguing that the "administration's misguided ad restrictions would cost 74,000 American jobs."
The report's point is that restricting advertising would have unintended economic consequences, particularly losses in sales and revenues, and therefore jobs.  The report estimates an astonishing loss of $28.3 billion from manufacturing and retail sales, just in the first year, translating to "at least 74,000 lost jobs."
This makes me think that the standards may have some merit.  Campbell Soup, for example, has just announced that because its low-salt soups aren't selling, they are putting the salt back in.  Oh.
In any case, industry pushback seems to be having an effect.  As I discussed in my post a week or so ago, David Vladeck of the FTC used his blog to discuss industry mythology about the proposed standards.  I thought his statement backpedaled on even a hint of federal regulation of food marketing to kids.
MYTH #2: The Working Group's proposal is regulation by the back door

….This is a report to Congress, not a rulemaking proceeding, so there's no proposed government regulation. In fact, the FTC Act explicitly forbids the Commission from issuing a rule restricting food advertising to children. So the FTC couldn't issue a rule on this subject if it wanted to, which it doesn't. Simply put, a report like this can't be a rule — whether it's delivered to Congress by the front door, the back door, or the kitchen door.
The IWG is collecting comments on its proposals through close of business today.  If you need a rationale for filing a comment, read Larry Cohen's piece in the Huffington Post.
Comments don't have to be long or complicated.  Just say what you think.
Go to this site to file them.
Or go to the PreventObesity site for additional suggestions.
Do this today!