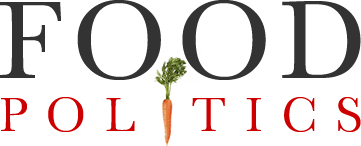 by Marion Nestle
Good news: obesity rates leveling off. But how come?
The latest obesity statistics from the Centers for Disease Control and Prevention show no change over the last several years in either adults or children.  No change is good news.
For adults in 2009-2010 the prevalence of obesity was 35.5% among men and 35.8% among women.  Obesity, in these surveys is defined as a Body Mass Index (BMI) at or greater than 30.
This represents no significant overall change compared to rates in 2003-2008.  
Going back to 1999, however, obesity rates increased significantly among men in general, and among black (non-Hispanic) and Mexican-American women in particular.  In more recent years, the rates among these groups leveled off.
 For children and adolescents in 2009-2010 the prevalence of obesity was 16.9%.  For this group, obesity is defined as a BMI at or greater than the 95th percentile of weight for height.
This represents no significant change compared to rates in 2007-2008, but with one exception: the rate of obesity among adolescent males aged 12 through 19 increased.
For decades, rates of overweight and obesity in the United States stayed about the same. But in the early 1980s, rates increased sharply and continued to increase through the 1990s.
The increases correlated closely with deregulatory policies that encouraged greater farm production and loosened restrictions on food marketing.  These led to an increase in the number of calories available in the food supply, pressures on food companies to sell those calories, a proliferation of fast food places, and marketing strategies that made it normal to drink sodas all day long, and to eat everywhere, at all times of day, and in larger portions.
Why are obesity rates leveling off now except among boys?  Nobody seems to know.
I can make up several reasons, all speculative (and I have my doubts about most of them).
People have gained all the weight they can and are in equilibrium
People are more careful about what they are eating
The poor economy is encouraging people to eat less
Junk food marketing is targeted more to boys
Girls are more careful about their weight
Boys are particularly susceptible to "eat more" marketing pressures
Boys are under greater psychological tension and eat to relieve it
Anyone have any better ideas?  It would be good to figure out the reason(s) as a basis for more sensible public policy.