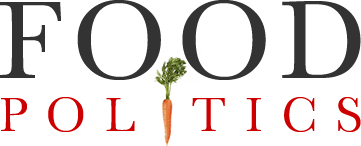 by Marion Nestle
New books: the farm bill and farming
It's spring and the books about food and farms are flooding in.  I'll start with these.
Daniel Imhoff, Food Fight: The Citizen's Guide to the Next Food and Farm Bill, Watershed Media, 2012.
Michael Pollan and Fred Kirschnmann introduce this new, gorgeously illustrated edition of Imhoff's lucid explanation of the farm bill and the vast number of issues it covers.  I'm not aware of anything else that comes close to explaining this most obscure and obfuscated piece of legislation.   Congress is fussing with the bill right now.  If you want to understand what your elected officials are fussing about, start here.  I will use this book in my NYU classes and will borrow the stunning illustrations for talks.
Jim VanDerPol, Conversations with the Land, No Bull Press, 2012.
This is a book of personal reflections on farms, farming, and farmers.  VanDerPol talks about the weather, people and communities, and better ways to produce food and to live.  From his base in Minnesota, he gives his thoughts  about the way agriculture has changed and what can be done to make it better.