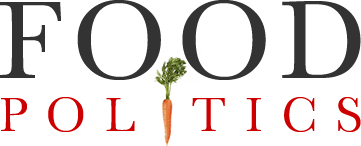 by Marion Nestle
The election is over (whew): what's next?
My post-hurricane Manhattan apartment still does not have telephone, internet, or television service, so I followed the election results on Twitter.
I knew that President Obama had been reelected when the Empire State Building turned on blue lights.
What's ahead for food politics?
With the election out of the way, maybe the FDA can now:
Release final food safety rules (please!)

Issue proposed rules for front-of-package labels

Issue proposed rules for revising food labels

Require "added sugars" to be listed on labels

Define "natural"

Clarify "whole grain"

Release rules for menu labeling in fast-food restaurants
Maybe the USDA can
Release nutrition standards for competitive foods served in schools
And maybe Congress can pass the farm bill?
As for lessons learned:
The food industry has proven that it can defeat consumer initiatives by spending lots of money: $45 to $50 million on California's Proposition 37 (GMO labeling), $4 million on soda tax initiatives in Richmond and El Monte.

But if enough such initiatives get started, food companies might get the message?
The election leaves plenty of work to do.  Get busy!