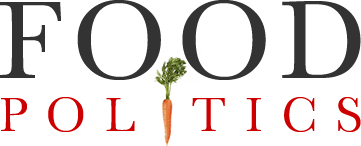 by Marion Nestle
USDA to allow flexibility in school meal standards: food politics in action
When it comes to feeding kids, it is not possible to overestimate the self-interest of food producers—and their friends in Congress.
Forget about childhood obesity and other child health problems.  If you want to understand why school nutrition standards are so controversial, you must pay close attention to their effects on the financial health of the companies selling food to school meal programs.
Corporate health trumps kids' health every time.
That is the lesson to be drawn from USDA's December 7 announcement that it will allow schools some flexibility in implementing school nutrition standards for meat and grains.
As long as the schools meet minimum requirements for meat and grain servings, they no longer have to restrict the maximum size of servings.
This may be a trivial change; schools will still have to serve mostly whole grains and adhere to calorie standards.
But was this decision political?  Of course it was.
Despite two Institute of Medicine reports recommending improvements in the quality of school meals, Congress has chosen to micromanage USDA's regulations.  Recall: tomato sauce on pizza now counts as a vegetable serving.
In October, three members of Congress asked the Government Accountability Office to investigate whether the new school nutrition standards resulted in higher costs and more food waste.  In November, Senator John Hoeven (Rep-ND) and 10 other senators, all from meat- and grain-producing states, that they were hearing complaints from constituents about kids going hungry in school.
In response, USDA Secretary Tom Vilsack reassured Senator Hoeven that USDA was listening to the complaints and was taking steps to address them: "you should be pleased to know that we have recently moved to allow for additional flexibility in meeting some of the new standards."
On December 8, Senator Hoeven issued a news release:
The rule had appeared to pose problems…especially for students in low income families, students in athletics programs or students in school districts with limited operating budgets. Moreover…it may be difficult for all students to get adequate protein to feel full throughout the school day. Protein is an important nutrient for growing children.

"I'm grateful to Secretary Vilsack for recognizing that the rules need to allow for individual differences among children and the prerogatives of local school districts, and resources available to them," Hoeven said. "While we welcome this news from USDA, we believe the new flexibility should be permanent, rather than for just the 2012-2013 school year, and we will continue to press that case."
Protein?  Since when is protein an issue in American diets?  (Most Americans, even kids, get twice the protein required).
What's at stake here are sales of meat and grains to school lunch programs.
What's also at stake is what comes next.
USDA has yet to issue regulations for nutrition standards for vending machines and competitive snacks and sodas sold in schools outside the lunch programs.
You can bet that Congress—which seems to have nothing better to do—will be taking a close interest in those rules as well.
If what's happening with school meals proves nothing else it is that Congress cares a lot more about the health of the industries that support election campaigns than it does about the health of children.
Sad.