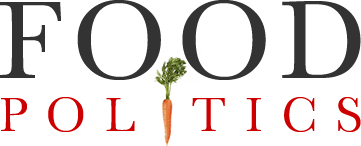 by Marion Nestle
Wonder of wonders: food companies favor GMO labels!
Stephanie Strom reports in today's New York Times that a group of food companies—among them several that put millions of dollars into opposing California's Proposition 37 last November—are now favoring labeling of genetically modified foods.
Those companies won the election; Proposition 37 lost, although not by a very wide margin.   
But in the process, two things happened: they lost credibility, and they created a movement for GMO labeling initiatives in other states.
Advocates for GMO labeling figured out that although Big Food and Big Soda were willing to invest $40 million to defeat the California labeling initiative, they might hesitate if confronted with initiatives in many other states.
Good thinking.  Ms. Strom reports the previously unthinkable:
Some of the major food companies and Wal-Mart, the country's largest grocery store operator, have been discussing lobbying for a national labeling program.

Executives from PepsiCo, ConAgra and about 20 other major food companies, as well as Wal-Mart and advocacy groups that favor labeling, attended a meeting in January in Washington convened by the Meridian Institute, which organizes discussions of major issues.

…"They spent an awful lot of money in California — talk about a lack of return on investment," said Gary Hirshberg, co-chairman of the Just Label It campaign, which advocates national labeling, and chairman of Stonyfield, an organic dairy company.

…Mr. Hirshberg said some company representatives wanted to find ways to persuade the Food and Drug Administration to proceed with federal labeling.
I have to say that I never thought I'd live to see this happen.  I was one of four consumer representatives to the FDA's Food Advisory Committee in the early 1990s when the FDA was considering approval of GMOs and whether or not to require them to be labeled.
We warned the FDA that if GMOs were not labeled, the public would wonder what the industry was trying to hide.  This, we said, would not only hurt the FDA's credibility, but would end up hurting the GMO industry as well.
As I discuss in my book, Safe Food: The Politics of Food Safety, the FDA's main arguments at the time were that (a) it would be misleading to label GMOs because they were no different from foods produced through traditional genetic crosses, and (b) the process by which foods are produced is not material.
Even then, it was evident that argument (b) made no sense.  The FDA already permitted foods to be labeled as Made from Concentrate, Previously Frozen, Irradiated, and, later, Organic.
As I've discussed previously, GMO labeling is no big deal.  All the label needs to say is "May be made from genetically modified corn, soy, or sugar," as Hershey's does in Great Britain.
Let's hope the FDA takes notice.