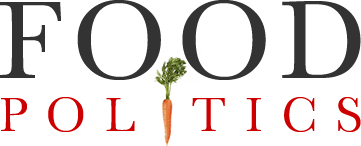 by Marion Nestle
Yes, one more post on the meaning of "natural"
At a talk I gave for CQ Roll Call in Washington, DC last week, an audience member asked about the definition of "natural."  I thought I had said everything there was to say about it (see post from August).  Wrong.
Another member of the audience sent me the definition of "natural" produced by, of all things, the  Treasury Department's Bureau of Alcohol, Tobacco, Firearms and Explosives (ATF).
Three federal agencies deal with "natural."
The FDA
In answer to the question, "What is the meaning of 'natural' on the label of food?," the FDA says:
From a food science perspective, it is difficult to define a food product that is 'natural' because the food has probably been processed and is no longer the product of the earth. That said, FDA has not developed a definition for use of the term natural or its derivatives. However, the agency has not objected to the use of the term if the food does not contain added color, artificial flavors, or synthetic substances.
The USDA
The USDA discusses "natural" in the context of organic foods, in order to distinguish "natural" from organic:
Natural. As required by USDA, meat, poultry, and egg products labeled as "natural" must be minimally processed and contain no artificial ingredients. However, the natural label does not include any standards regarding farm practices and only applies to processing of meat and egg products. There are no standards or regulations for the labeling of natural food products if they do not contain meat or eggs.
The ATF
This agency is in charge of regulating alcoholic beverages, largely for tax-collection purposes.  Its "ATF Ruling 85-4" does not actually define the term "natural," but instead says when ATF takes no exception to its use.
(1) Any grape fruit, citrus or agricultural wine may be designated "natural" if it is made without added alcohol or brandy…No other type of wine may be designated as "natural."

(2) A distilled spirit may be designated as "natural" if is solely the result of distillation, with or without mingling of the same class and type of spirits or simple filtration which does not alter the class or type of the product.

(3) A malt beverage may be designated "natural" if it is made without adjuncts (additives) other than those additives which do not remain in the finished product, either by precipitating out or by combining with other components of the product and the resulting compound precipitates or is filtered out.
I am not making this up.
CSPI thinks it's time to phase out the use of "natural."  OK by me.
Addition: Michele Simon, who blogs at Eat, Drink, Politics, writes (she's not making this up either):
In fact, ATF is how housed within the Department of Justice.

Historically, ATF had all jurisdiction over alcohol (and was within Treasury), which is where that rule must have come from.

ATF still maintains jurisdiction over criminal activity, but now, the Alcohol and Tobacco Tax and Trade Bureau oversees labeling. That's housed within Treasury.

This explains the split in 2002 (click here).

Clear as mud? So maybe you can add a fourth agency to your list!